Home
>
Next generation network
Editor's Pick
---
Next generation network
12 December 2018
The CC-Link Partner Association, the organisation promoting the Ethernet-based integrated network CC-Link IE, has announced completion of the specification for CC-Link IE TSN – a next generation network based on the current CC-Link IE.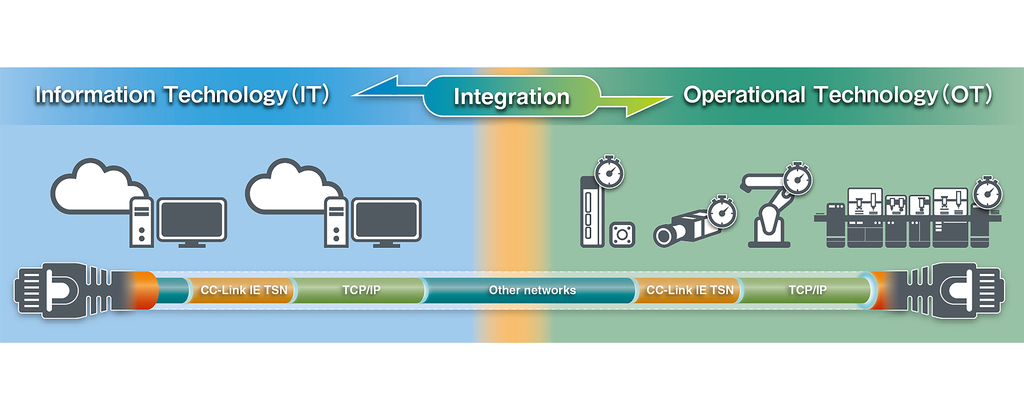 Developed to meet future market demands, CC-Link IE TSN has added Time Sensitive Networking (TSN) technology, which are additional standards related to IEEE Ethernet, to integrate Operational Technology (OT) and IT while further strengthening performance and functionality.
Also, with the diversification of development methods, it has enabled flexible implementation for various types of equipment and also achieved mixed usage of information communications by utilizing Internet Protocol (IP) and control communication technology. It is expected that these will improve efficiency and reduce time for the construction of smart factories utilizing the IIoT. More details of the CC-Link IE TSN specification will be published on the CLPA Members Site.
Background of CC-Link IE TSN specification release
The CC-Link IE specification was released in 2007 as the first 1Gbps Ethernet-based open industrial network and has expanded its function and scope of application to motion and safety control after starting from general input/output control. Its features achieve a mixture of high-speed and large-capacity control communication (cyclic data) that combines with non-control communication (transient data). The two can coexist thanks to the 1Gbps bandwidth. Furthermore, it is easy to diagnose the cause of network errors. Since it is simple to build not only the system that controls and monitors a production site but also the system that collects and analyzes information on the production site, it is expected to bring benefits to a range of different industries.
On the other hand, as IIoT systems have progressed to the practical stage in recent years, market demands for utilizing a wide range of devices implementing general purpose Ethernet communication have increased. Moreover, requests for high function motion control equipment and protocol implementation for various types of equipment have increased. In order to meet these demands, we developed "CC-Link IE TSN", a network which significantly improves the performance and functions of the current CC-Link IE. Furthermore, it has increased openness through utilisation of TSN technology.
1 Flexible IIoT system construction
Adopts TSN Ethernet communication technology as a time sharing method
Enables collection of information from end devices by IP communication while securing real-time control communication
2 Faster time to market and reduced downtime
Easier network diagnosis by using general purpose Ethernet diagnostic tools compliant with SNMP
By means of time synchronization of compatible devices, it is easy to investigate the cause of problems
3 Further productivity improvement
With the improvement of communication performance, CC-Link IE TSN can offer a best in class motion control operation cycle time of better than 31.25µs
Segregation of high and low performance device communication, leading to optimized performance for all network stations and the system as a whole
4 Diversification of development methods
Offers hardware (ASIC and other device based) and software (protocol stack) development methods
Supports both 1Gbps and 100Mbps
Development status of CC-Link IE TSN compatible products
The detailed specification of CC-Link IE TSN will be released to CLPA partner companies through our website. Those partners who were involved in formulating specifications are considering product development and compatible products are expected to be released from 2019.
RELATED ARTICLES
No related articles listed
OTHER ARTICLES IN THIS SECTION