Editor's Pick
---
No dead zone
10 March 2014
New from Pilz, PSENopt Advanced light beam devices offer a high degree of flexibility thanks to their multifunctionality: muting or blanking and cascading are implemented within the same light beam device.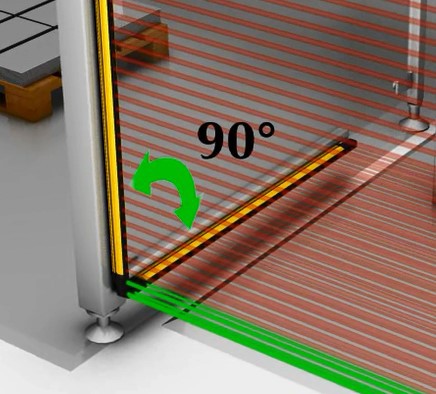 Genuine "no dead zone" at top and bottom, manual or software configuration and logging are additional features which differentiate these new light curtains from the company's existing basic range.
These light curtains can be manually or software configured for standard, blanking or direct muting capability, with the bonus of cascadability - so one light curtain for all functions, for more complex applications.
No dead zones
The fact that the top and bottom beams are at the very extremity of the receiver/transmitters means there are no dead zones, allowing these light curtains to be fitted into tighter spots without extraneous housing getting in the way.
Hand protection in corners
They can also be butted directly up to each other without loss of protection (for example full hand protection in corners at right angle joints.
Cascading
They can also be butted up and cascaded where greater than 1800mm protected profile is required, without loss of protection.
Electrical cascading can be carried out on up to three pairs (one master + two slaves).
The new Advanced range consists of 33 types covering Type 2 hand (30mm) and Type 4 finger (14mm) and hand (30mm) resolution, at protected heights ranging from 300mm to 1800mm, with operating range of 0.5 to 20m. The light curtains are supplied with sliding fixing brackets, and a separate cascading bracket it also available. Reaction times are as fast as 11.9ms.The devices TUV certified to EN 61496-1 and IEC 60508 to SIL 3 and EN ISO 13849-1 to PLe.
Connections can be made at the top or the bottom of these light curtains via easy to fix 18 pole pigtail leads, of which there is an emitter type and two receiver types, one for normal or blanking use, and one for muting which will accept two independent, hardwired muting inputs (as required in IEC/TS 62046) directly into the receiver.
Basic configuration made easy
The light curtains can be manually configured, not using traditional, fiddly DIP switches but via a stylus and 3 recessed membrane soft keys (confirm, select, enable) in what is known as BCM (basic configuration mode). In this mode blanking can be set (2 fixed zones or floating 1 or 2 or 4 beams). The LEDs are used to aid configuration, as well alignment and to provide advanced diagnostics once the light curtain is commissioned.
Advanced configuration
Greater programming flexibility is available in ACM (advanced configuration mode) using an Ethernet interface adaptor and the free to download PSENopt Configurator (found here). In this mode up to 5 fixed blanking zones can be set, and the number of floating blanking beams is selectable. Muting options can be set here too (cross beam, parallel beam, muting period, override etc).
The Ethernet interface module is also intended for Cloning, and Remote Monitoring / Logging so repeat configurations can be sped up and fault finding made easy for maximum production uptime. Online the status of individual beams, the safety outputs (OSSDs), muting and blanking can all be monitored and logged.
The software can be used online or offline, and has three levels of password protection to ensure safety configurations can not be tampered with by, for example, maintenance engineers using the software for online diagnostics.
Coding
It is also possible to code individual pairs of receiver and transmitter to modulate at frequencies which avoid interference with or from other pairs located close by. The coding function enables the light curtain to operate normally even if an interference condition occurs with another light curtain. This is particularly true if the transmitter TX of the first light curtain emits beams in the direction of the receiver RX of the second light curtain.
A range of protective stands, mirrors and IP6k9k tubes are also available. Together with Pilz PNOZ or PSS controllers, PLe and SIL 3 safety systems can be built. Pilz also offers accredited Stop Performance Monitoring test services to assist users in determining the correct safe distance at which light curtains (and other safeguarding measures) must be placed in accordance with EN ISO 13855.
RELATED ARTICLES
No related articles listed
OTHER ARTICLES IN THIS SECTION