Editor's Pick
---
Self-cleaning plastic drag chains
05 May 2017
New from KabelSchlepp Metool, the TKK series is a cable carrier for small installation spaces in harsh operation conditions, as required, for example, in lifting devices.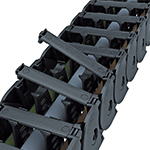 TKK39 is self-cleaning and extremely solid, while remaining light and compact. It delivers particularly high torsional rigidity and supports long unsupported travel of up to 5m.
The space-saving design has an installation height of only 142 mm; reducing the installation height by 65 % compared to to alternative solutions. The energy chain can be used when both self-supported and gliding. It supports speeds of up to 3m/s and accelerations of 9m/s2.
Short steel connecting elements, directly bolted onto the console or support, allow easy installation. The company also offers hybrid chains with aluminum stays and steel chains as an alternative to this particular weight-optimised version, the chain links of which are made entirely of plastic.
OTHER ARTICLES IN THIS SECTION