Editor's Pick
---
Connection for long travel lengths
29 June 2017
Applications with increased lateral offset can produce a strong transverse load on the drag chains and a flexible driver connection is required to compensate for inaccurately aligned channels or possible wear on the rollers.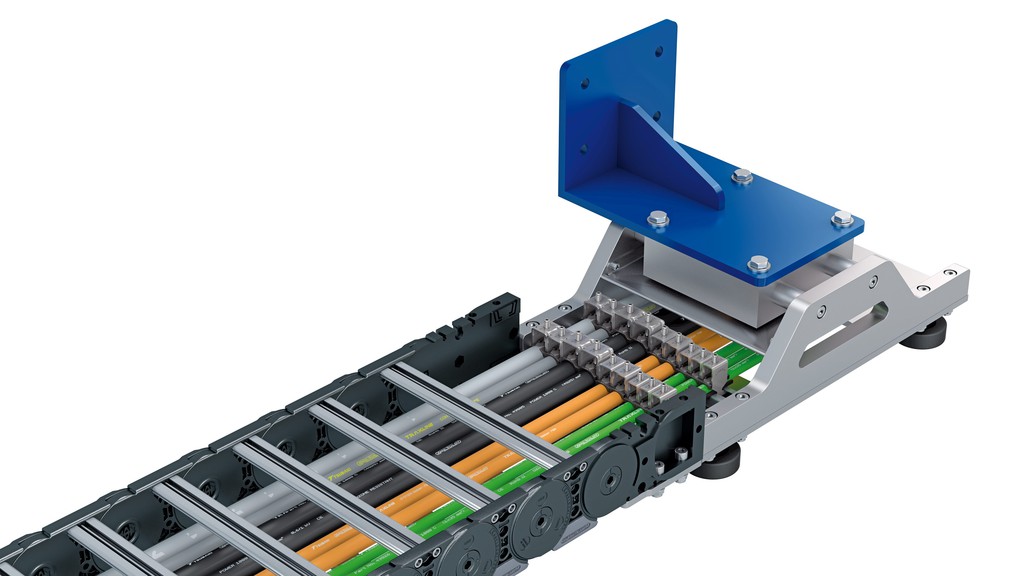 With the Floating Moving Device, Kabelschlepp Metool offers a safe and robust solution which is also suitable for rough environments. The device creates a flexible connection between the drag chain and the driver arm of a system. Areas of application are, for example, crane systems in seawater environments as well as material handling or bulk goods applications. "For long travel lengths which are not absolutely straight, the connection has to ensure a relative motion between the connection of drag chain and the system driver to compensate for any inaccuracies and to minimize wear on the drag chain guiding," Peter Sebastian Pütz, head of crane business at Tsubaki Kabelschlepp, explains. "This also compensates for the concurrent error between system and cable carrier."
The integrated strain relief ensures reliable cable guiding and a high level of system availability. In addition, a combination with the push and pull force monitoring unit from Kabelschlepp Metool is also possible. The guiding without transverse loads is gentle on the drag chains while also minimizing defects, malfunctions and downtime. Simple connection and assembly options also reduce production, maintenance and service costs for the system operator. In connection with the Steel Guide System (TKSG), wear on the roller-guided system can be minimized.
Flexible connection of different drag chains
The Floating Moving Device is available in stainless steel or aluminum and can also be painted to customer specifications. It is suitable for the cable carrier types M0950, M1250, M1300 and TKHD90 from Kabelschlepp Metool. The inner width is available in 1mm sections. The horizontal tolerance compensation is at least +/- 30mm.
The standard connection dimensions of the component allow horizontal and vertical connections, including a glide-optimized GO module. The latter ensures that the upper run is placed on the lower run quickly and in a controlled manner. This produces minimal wear and prevents the cable carrier from rising up in the guiding. The station in the thrust end position has a smaller loop and therefore remains correspondingly short and requires only little space.
OTHER ARTICLES IN THIS SECTION