Industry Update
---
Pneumatics website is 20
09 October 2017
In 1997, Thorite launched its first commerce based website. Since then, the site has been redesigned three times with each redesign featuring more help sections, new products and news items than the previous version.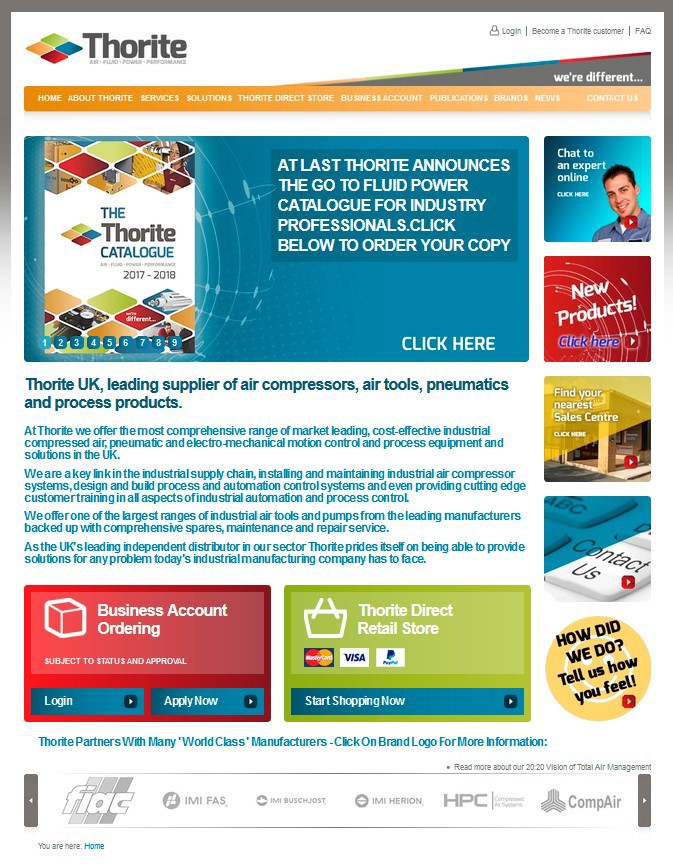 The latest site is a full e-commerce site which, says the company, contains the largest selection of pneumatic products of any site in the UK; possibly Europe. In order to make full use of the site, customers must first register as account holders. Once registered, customers are able to purchase products on account for delivery the following working day, and securely view their account.
Any company that uses compressed air should be an account holder. This is much more than a simple e-commerce site because of what else is included. Through a FAQ drop-down, visitors can get help on a variety of pneumatics-related issues and if the answer isn't there, an on-line expert is available. Account holders also have access to special offers and promotions which are changed regularly.
As Marketing and Engineering Director, Ross Gowler is responsible for the Thorite website: "Over the past twenty years, as many of our customers will confirm, there have been some huge changes to the appearance and usefulness of the Thorite website and, like every major e-commerce site, it is always evolving. We have nearly three hundred suppliers and every time a new product is launched, we include it on the web-site. The website takes a lot of resources to keep current but, as with our network of eleven Service Centres, it is part of what Thorite is all about."
OTHER ARTICLES IN THIS SECTION