Home
>
Setting the pneumatics standard
Industry Update
---
Setting the pneumatics standard
06 November 2017
For the third time in a row, Bosch has awarded pneumatics specialist Aventics, headquartered in Laatzen, Germany, with Preferred Supplier Status in the material field of 'Standardized Pneumatic Devices'. The award was presented at the Bosch plant in Bamberg, where Aventics equipped a new production line with pneumatic solutions.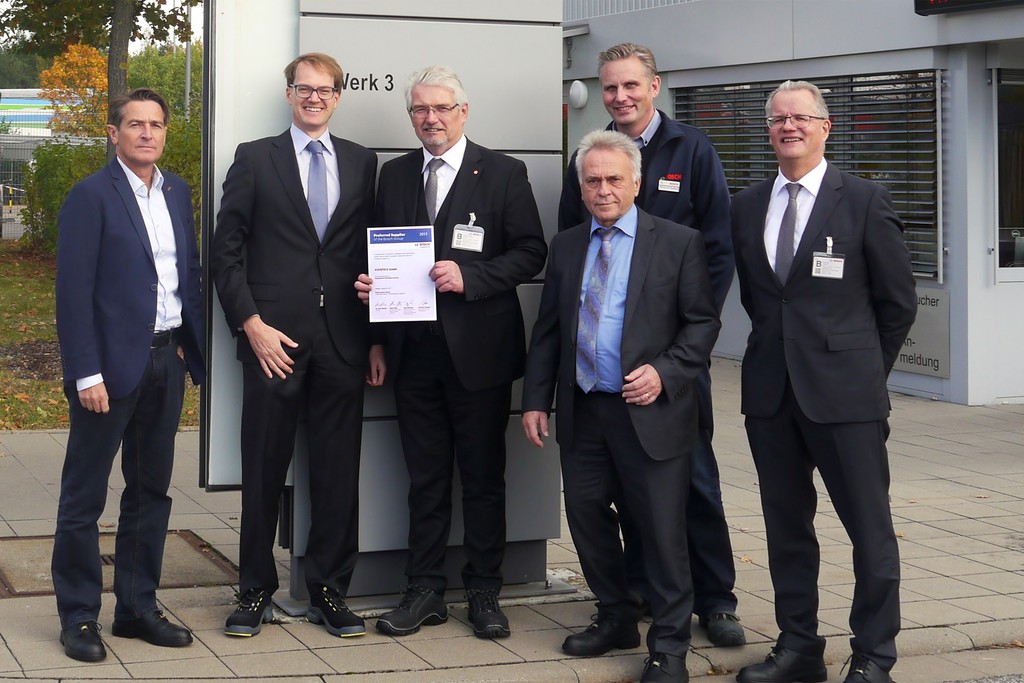 "The erection of a new production line for the sixth generation of high-pressure injection valves for ultra-efficient gasoline engines is an important investment into this plant," said Norbert Kunisch, lead buyer at Robert Bosch, Bamberg, at the awards ceremony.
The production of the new HDEV6 high-pressure injection valves requires maximum precision in all movements. At the same time, Bosch requires maximum availability of all components and modules in its production line. In addition, the setup and commissioning schedule was tight with short delivery times.
"Bosch is a very important customer, and I am proud that we have received this award in 2015, 2016, and 2017," said Peter Saffe, responsible for strategic sales at Aventics. "This shows that we ensure consistently high-quality products and that we have the right business processes in play."
Saffe accepted the award on behalf of Aventics together with Dieter Michalkowski, key account manager at Aventics.
Bosch grants the Preferred Supplier Status to suppliers that the company intends to cooperate with most intensely. Aventics has delivered an exceptionally competitive level of performance in the production and supply of products or services in a specific material field over an extended period. Bosch aims to maintain sustainable business relationships with its best and most innovative suppliers to achieve joint global growth.
The Preferred Supplier Status is part of Bosch's supplier management program and is awarded every year based on clearly defined criteria in the areas of quality, costs, logistics, and technology. "We involve our first-rate suppliers into new projects early on – and both sides benefit from this close collaboration," explained Malte Ihlenfeld, corporate lead buyer machine components & services at Robert Bosch.
"Aventics already offers networked pneumatic components that can be integrated into IoT environments thanks to their open interfaces," emphasised Peter Saffe. He pointed out that Bosch is already a strong player in two regards when it comes to the Internet of Things. On the one hand, the company offers hardware and software for networked production. On the other, as a manufacturer, Bosch is an active user of the Internet of Things.
RELATED ARTICLES
No related articles listed
OTHER ARTICLES IN THIS SECTION