Home
>
Single-axis paddle joystick
Editor's Pick
---
Single-axis paddle joystick
06 November 2017
Curtiss-Wright's latest innovation – from its brand family of Penny & Giles – the JC1210 is a single-axis paddle joystick that extends the JC1200 family.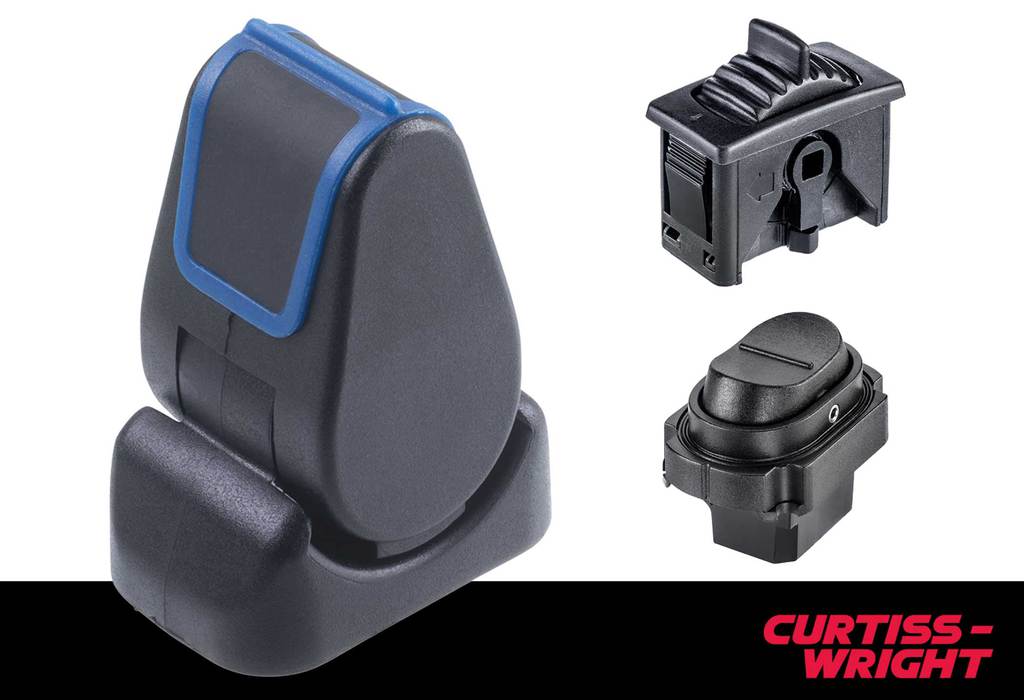 Offering centre-line or corner mounting solutions in a single body, the new joystick controller also incorporates an additional 10 degrees of travel at both ends of the axis, allowing machine designers and end users to specify either latching and overpress functionalities – or a combination of both – to meet system requirements to hold functions at full speed/float.
Additionally, a choice of nine, soft-touch coloured insert areas increase operator comfort and decrease the likelihood of finger-slip during operation, all of which helps to make the new JC1210 ideal for use in control panels and armrest assemblies found in material handling vehicles, industrial trucks, agricultural equipment and construction machinery, where cost-effective, long-life operator controls are essential.
Another newcomer from Penny & Giles is the single-axis JC040 rocker joystick controller, which is ideal for arduous applications and builds on the successes of legacy potentiometric versions. Using non-contacting, Hall-effect sensing technology for long-life integrity of the output signal, the IP67-rated JC040 provides safety functionality via dual outputs – which can be set to positive or a combination of positive and negative ramps - and also benefits from independent supply voltages for each of the outputs.
The JC040 is designed for in-cab use with a 'pass through' design for any contamination; and electronic robustness is assured with IP67sealing of the internal PCB.
Launched at the same time as the JC040, the Hall-effect JC050 thumbwheel roller, which is suitable for integration within joystick hand-grips and other in-cab human-machine interfaces (HMIs) and features a low under-panel depth of 23mm and return-to-centre functionality over a range of ±37° roller travel.
The new JC050 is rated for 3 million operating cycles thanks to the use of non-contacting technology and, like the JC040 rocker, benefits from a 'pass through' design for any liquid or dust contamination. Electronic robustness is assured by sealing of the internal electronics to a rating of IP67.
To ensure safety is enhanced, the JC050's dual-redundant electronic architecture is constructed using two power supplies and two sensing circuits, the outputs of which can be set to positive ramps, a combination of positive and negative ramps, or full voltage range over half travel from each sensor with constant output in the other half travel.
RELATED ARTICLES
No related articles listed
OTHER ARTICLES IN THIS SECTION