Miniature laser sensors
02 March 2018
A new range of miniature laser sensors which provide pinpoint accuracy for the detection of objects to within 0.1mm and with response times of less than 0.1 ms has been introduced by Baumer.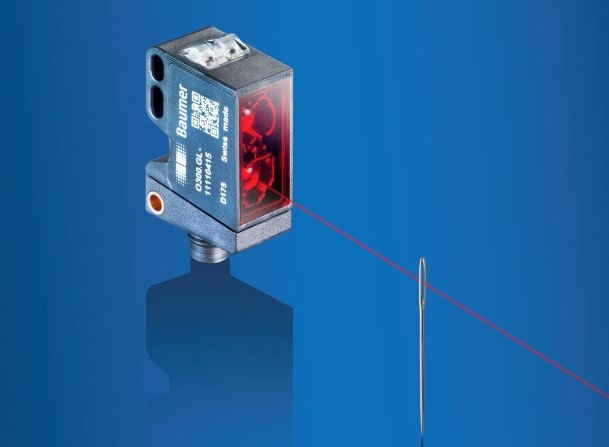 Thanks to a laser beam which focuses to within and has an accuracy of 0.1mm, objects can be positioned with high precision and follow-up processes can be controlled precisely.
The main advantage of the sensors is their exact alignment thanks to the development by Baumer of qTarget a process whereby the light beam of the sensor is aligned by design to the fixing holes. This eliminates individual part tolerances and ensures that the entire sensor range has a light beam with consistent accuracy.
Furthermore, Baumer has also developed qTeach a new and convenient, wear-free teach-in procedure which means the sensors can be commissioned just by touching them with any ferromagnetic tool. A blue LED light provides clear optical feedback and to prevent user errors qTeach locks automatically after 5 minutes.
The combination of qTarget and qTeach ensures safe, reliable and fast commissioning of the sensor, whilst also eliminating the potential weak points associated with the pushbutton or potentiometer.
The 0300 range consists of 5 options and includes a SmartReflect option, the original light barrier design without the need for a reflector. Even reflecting objects with a size of just 0.5mm can be reliably detected within a sensing distance of 250mm.
Stainless steel IP68 and IP69K options are also available which combine a rugged hygienic design for easy wash down suited to applications in packaging plants for food and pharmaceutical industries.
IO-Link integration means the sensors are ready for Industry 4.0 allowing for quick and easy configuration for all applications using standard network components.
OTHER ARTICLES IN THIS SECTION