Home
>
Free telephoto or wide-angle lens
Editor's Pick
---
ARTICLE
Free telephoto or wide-angle lens
19 September 2017
Until 31st December 2017, Fluke is offering thermal imager kits which include a free telephoto lens (FLK-TIxx0 9HZ/T2) or wide-angle lens (FLK-TIxx0 9HZ/W2) with a Fluke Ti300, Ti400 or Ti450 Thermal Imager to extend the focus and the desired viewing angle.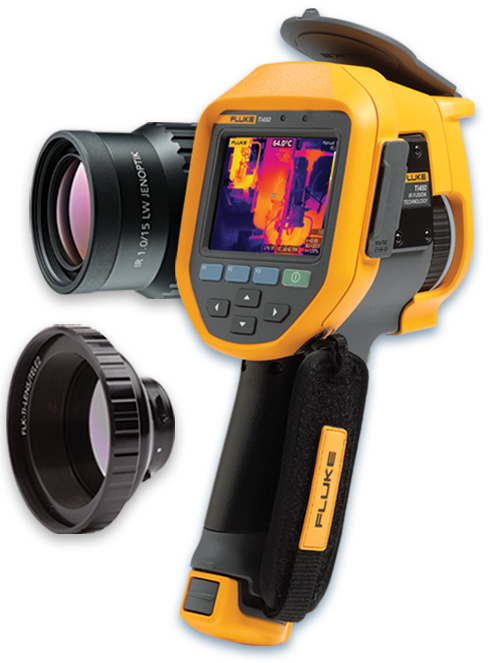 These thermal imagers are part of the rugged Fluke Professional Series and compatible with Fluke Connect, enabling users to share information with others direct from the job site. The offers can be found at www.fluke.co.uk/freelens
The Fluke Thermal Imagers included in the offer all feature LaserSharp Auto Focus which offers laser speed and accuracy when focusing on a designated target. A built-in laser distance meter calculates and displays the distance to the designated target with pinpoint accuracy. They feature a high resolution LCD touchscreen to clearly see what is being measured and to quickly navigate the menu with one hand, and feature Fluke IR-Fusion technology with AutoBlend mode to detect problems faster.
The Fluke Ti450 Thermal Imager takes focusing to a higher plane with MultiSharp Focus. MultiSharp Focus is a technology that rapidly takes multiple images focused from near to far and combines them to produce one image with all objects in focus. The advanced focusing system enables users to capture an automated, in-focus image of all potential targets, delivering the image clarity needed by professional thermographers and maintenance managers to provide better images and avoid costly rework. SuperResolution mode on the Ti450 increases image resolution to 640 x 480. This delivers images with four times more pixel data than normal resolution. The higher resolution enables users to see even more detail for greater analysis capability and better reporting.
The wireless Ti300, Ti400 and Ti450 are part of Fluke Connect, a system of wireless test tools that communicate via the Fluke Connect app, or Fluke Connect Assets software, a cloud-based solution that gathers measurements to provide a comprehensive view of critical equipment status. With Fluke Connect, infrared images can be uploaded from anywhere and combined with measurement data from multiple Fluke Connect test tools to create and share comprehensive reports from the job site via email and collaborate in real time with other colleagues, increasing productivity in the field. Stand J42
MORE FROM THIS COMPANY
No related articles listed
RELATED ARTICLES
No related articles listed
OTHER ARTICLES IN THIS SECTION