Murrelektronik Ltd
Murrelektronik Ltd, is the UK arm of one of the world's leading suppliers to the engineering industry: Murrelektronik GmbH. Founded in Oppenweiler, Germany in 1975, Murrelektronik is one of the leading worldwide manufacturers of advanced technology in electrical engineering and electronics. Murrelektronik offers complete electrical equipment for machine and system installations for all different market segments across the world.
Based in Manchester, Murrelektronik Ltd has a dedicated team ensuring our customers benefit from the best possible service and with Regional Sales Managers operating across the UK, it is easy to arrange an on-site consultation.
By combining German-made quality with an exceptional Technical Support Team and Industry Experts in sectors including Food & Beverage, Packaging and Automotive, Murrelektronik provides customers practical field-tested products, unrivalled service, expert advice and cross-industry knowledge
Everything from a single source
Murrelektronik supply everything for machine and plant installations – consistently and from a single source. By offering such a wide range of industrial automation products, Murrelektronik customers can opt to purchase the simplest of components or benefit from a complete system solution. Murrelektronik offer a bespoke approach combining your experience and our specialized knowledge with our innovative system technology and proven Murrelektronik products to create a customized solution.
Murrelektronik offers customers a unique pool of components. Over 30,000 products are tested in our in-house test centre, loaded with patents, innovations and really clever ideas.
From Control Cabinets …
In the top field of intelligent power distribution, MICO provides load circuits with effective protection preventing the risk of fire. This intelligent component saves space, reduces switch-on peaks, saves operating states and stops overcurrents quickly and safely.
Suppressor modules from Murrelektronik ensure machine availability. The benefits of suppressor technology are enormous and far outweigh the measures linked with its deployment - prevent malfunctions or faults and save considerable costs. Murrelektronik offers matched components for contactors, motors and valves designed for installation in control cabinets or in the field.
Coupling modules from Murrelektronik can disconnect, switch or convert voltage - even where space is at a premium. Our product portfolio comprises a variety of relay and optocoupler modules that use the practical terminal block format. Our analog transformers and temperature converters are specially designed for applications in the field of process measuring and control technology.
via interfaces...
Interfaces from the control cabinet to the field are an important part of every flexible application. We provide you with solutions for your individual requirements with our comprehensive range of cabinet entry for you to connect to your controller inside the system. Front-panel interfaces make it easy to connect without even having to open the doors. More than 4000 possible insertion combinations provide maximum flexibility.
to field passive…
Murrelektronik offers one of the most comprehensive ranges for connecting sensors and actuators. A great number of connectors are available from stock or will be produced within 48 hours after an order is places. The product range includes the classic M8-/M12 round plug connectors, valve connectors and Ethernet connectors
Our distribution systems with plastic or metal housings are universally installable. All passive distributors are pretested. Continuously plugged and pre-terminated cables make the wiring of sensors and actuators quick and easy. Distributors from Murrelektronik help to significantly reduce installation and maintenance costs.
to active in the field
With Murrelektroniks fieldbus technology, connecting sensors and actuators is convenient and systematically to a higher level. Cube 67 is a modular system especially for application-friendly installations. Impact67 equals major cost savings. MVK Metal is made for demanding industrial environments and MASI is unique because of its extremely simple installation technology
For expert system solutions, real cost savings, large material availability and short delivery times call Murrelektronik on 0161 728 3133 email sales@murrelektronik.co.uk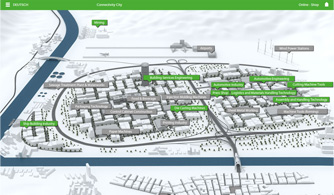 we-are-connectivity.com - the online application tool
Have a go at connectivity city, it takes you through industry applications directly to the product
PRODUCT SHOWCASE
Clear Signaling of Process Statuses

The new signal towers Modlight Pro deliver an extremely intense light output

Power Supply in the Field

Premium Power

Easy and Sealed Servo Motor Connections

Powerful all-rounder

Installation as easy as closing the handle

More than 100,000 combination options

Modlink MSDD is a modular system based on standard frames (single and double frames) with many different inserts to plug in. This variety allows more than 100,000 combination options.

MVK Metal Safety

IODD on Board

The Murrelektronik Cloud is here and it's ideal for using machine and plant data smartly. Murrelektronik's nexogate device is your interface to the industrial field.
COMPANY CATEGORIES
1/3 (1 to 20 of 54)
Actuators
Appointments
AUTOMATION
Automation
Automotive
Cables & Connectors
Cables, connectors and energy chains
Circuit Protection
Condition Monitoring
Connectivity
Connectors
CONTROLS
Data capture
DRIVES & MOTORS
Electrical components
Electrical Safety
Emergency Stops
Enclosures
Energy Management
Food & Beverage