Home
>
Creates 3D data twice as fast
Editor's Pick
---
ARTICLE
Creates 3D data twice as fast
10 January 2019
The Ensenso XR stereo camera with on-board processing from IDS can calculate 3D point clouds itself. Afterwards, it transmits the data via Gigabit Ethernet or WiFi to a host PC for further analysis. The advantages of the new camera series include significantly faster 3D data generation and reduced load on bandwidth and connected PCs.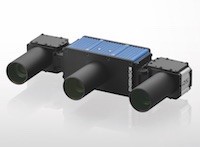 Another advantage of the new camera series is that if data is transmitted via WiFi, only one cable (for power supply) needs to be connected to the camera. This is an advantage, for example, if the camera is installed on a robot arm.
"Ensenso XR inherits the modular concept and precise detail capture of the X series and provides new scope through the fast capture of 3D point clouds, from which many applications will benefit," explains Dr. Martin Hennemann, product manager Ensenso at IDS. The camera series was officially presented for the first time at VISION 2018 based on a prototype.
The model presented at the trade show is similar in terms of field of view and resolution to the Ensenso X series with 1.3MP sensors and can precisely detect both entire pallets and small objects. For the detection of a packed Euro pallet measuring 120 × 80 × 100cm, the Z accuracy was just under 1mm at a camera distance of approximately two metres. For the start of the Ensenso XR series in spring 2019, two variants with uEye CP and uEye FA industrial cameras (protection code IP65/67) with 1.6MP and 5MP sensors are planned.
RELATED ARTICLES
No related articles listed
OTHER ARTICLES IN THIS SECTION