Home
>
Ultrasonic clamp-on flow meters
ARTICLE
Ultrasonic clamp-on flow meters
21 October 2019
Available from Bell Flow Systems, Dynasonics TFX-5000 ultrasonic clamp-on flow meters for liquid flow measurement and heat metering (heating and cooling flows) include data logging and alarm history with a time and date stamp and are suited to HVAC, water and wastewater, oil and gas and industrial flow and energy measurement applications.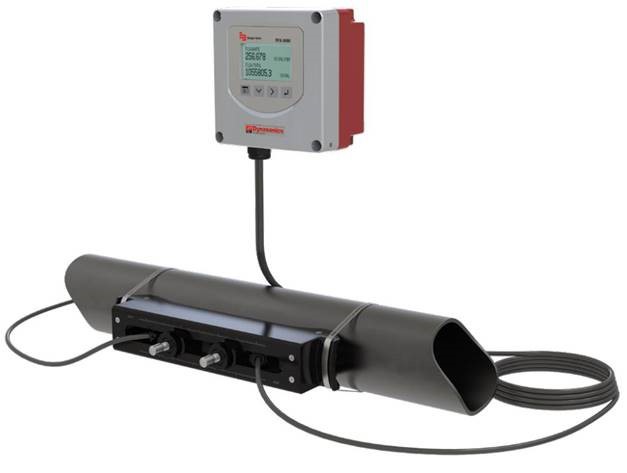 The TFX-5000 meter uses transit time measurement to determine the flow rate and total volume. When ordered as an energy meter option with the supplied pair of PT1000 RTDs, the TFX-5000 energy meter can calculate heat transfer rate and energy usage.
As the TFX-5000 meters' clamp on flow sensors clamp on to the outside of the pipe, there is no requirement to tap or cut into the pipe, providing considerable benefits in terms of the reduction in total installation cost while eliminating the potential for contamination and meter fouling.
The TFX-5000 non-intrusive flow meter replaces the Dynasonics TFX Ultra - ultrasonic clamp-on meter and is suited to the same applications and more whilst it also includes the following improvements:
Data logging and real-time clock
Addition of the adjustable small pipe transducer, only one sensor for small pipes!
Large display with keypad and improved diagnostic messages
Improved pipe clamp RTDs for energy metering
AquaCUE Flow Measurement Manager/BEACON Advanced Metering Analytics with remote connectivity
Security passcode protection
English, French, German, Italian and Spanish configuration menus
SoloCUE Flow Device Manager configuration software (included free with each model purchased)
The TFX-5000 meter is CE certified. (ATEX approval is on-going and expected for early 2020.)
For further information email mail@bellflowsystems.co.uk
RELATED ARTICLES
No related articles listed
OTHER ARTICLES IN THIS SECTION