Home
>
IP67 safety switch & hinge combined
Editor's Pick
---
ARTICLE
IP67 safety switch & hinge combined
20 August 2014
Combining multiple functions has many advantages for installers and operators.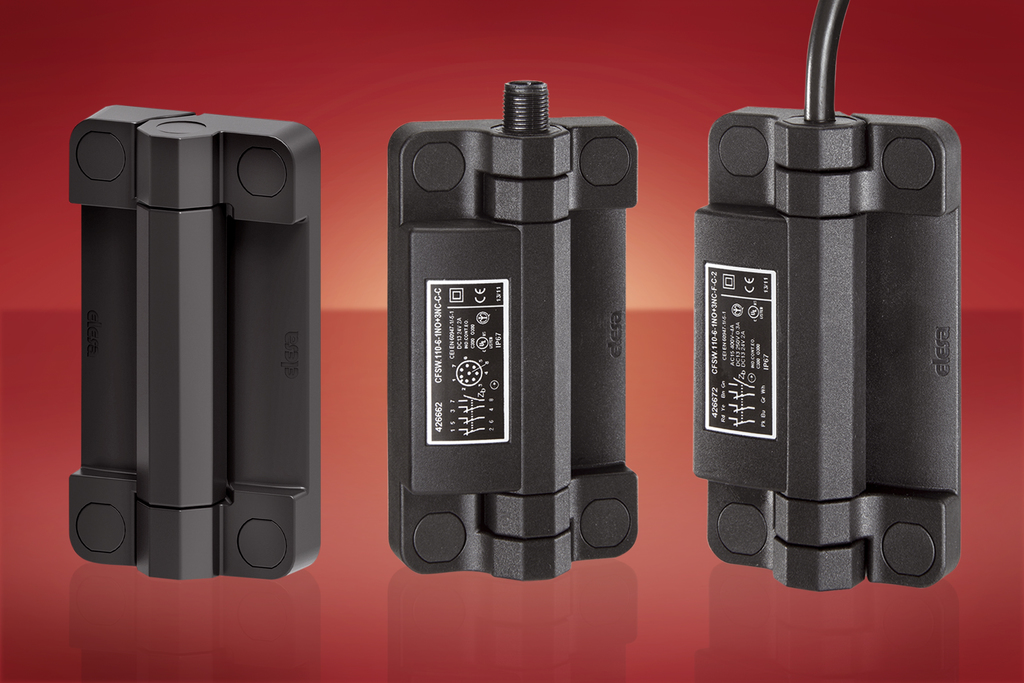 The Elesa CFSW-110 180 degree hinge has been designed with its own built-in multiple safety switch, so in the event of accidental opening of a control cabinet door, machine panel or safety door, it automatically shuts off the power and protects the operators of machinery and production equipment. This is a big advantage in comparison with systems which require a separate hinge and safety switch connected by a special pin to replace the standard pin of the hinge.
Limited size, different assembly and output options (cable/connector) make this product easy to install on the most common aluminium profiles (30mm minimum wide). Standard connections are 8-pole connector or 8-core cable in 2m or 5m lengths. While the 180 degree opening is normal, other operating angles may be specified.
The IP67 protection class is achieved by stainless steel elements for closing the hinge body, which can withstand frequent severe water jet washings and can be used in any situation or environment where a special care for cleaning and hygiene is required.
Double insulated
The CFSW is double insulated and therefore does not need a safety connection to earth. It is available with different combinations of contacts with positive opening, including 2NO+2NC, and 1NO+3NC. NO means normally open - no current can flow until the button is pushed and they are closed; NC means normally closed - current can flow all the time until the button is pushed - most often used on doors where the button is pushed by the closed door and release when the door is opened, turning on the light.
The CFSW is approved by IMQ, Italy's leading organisation for conformity assessment, to EN 60947-1/2007, EN 60947-5-1:2004 and A1/2009. It is also approved by UL (Underwriters Laboratories), the most authoritative certification body for the North American market. These robust units are tested to a B10d value of 2,000,000 and are totally tamper-proof.

RELATED ARTICLES
No related articles listed
OTHER ARTICLES IN THIS SECTION