ARTICLE
Vibration Sensors
13 October 2014
Our industrial accelerometers or vibration sensors play a key role in predictive maintenance programmes, helping you improve machine reliability, uptime and operating margins.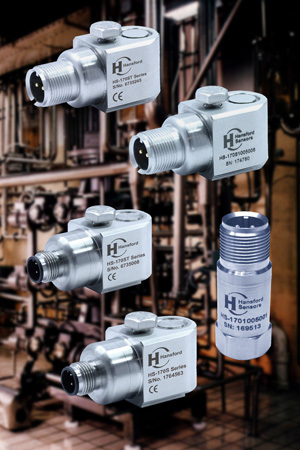 Vibration sensors offer the potential for continuous monitoring and analysis; an inexpensive option when balanced against the potential cost of downtime on an automated line. With accelerometers mounted in a number of key positions on mechanical equipment, and associated equipment to gather data and/or alert engineers to developing problems, machine downtime can be significantly reduced.
Hansford Sensors' vibration monitoring tools are used to enhance efficiency across a wide range of applications, including metals, pharmaceuticals, wind power, marine, paper, mining and quarrying, food and beverage.
Which accelerometer should I choose?
There are two main types of accelerometer: AC accelerometers and 4-20mA accelerometers. AC accelerometers are typically used with data collectors for monitoring the condition of more critical/complex machines, such as gearboxes and turbines, while 4-20mA accelerometers are commonly used with PLCs to measure the condition of lower value assets, such as motors, fans and pumps.
Our products include standard and premium sensors as well as intrinsically safe accelerometers approved for use in Group I (Mining) and Group II (Petrochemical). We also supply multi-sensor switch boxes,vibration sensor modules,portable vibration meters,accessories for sensors, vibration condition monitoring protection systems and custom built vibration sensors.
Premium accelerometers
Our Premium HS-170 accelerometers offer an improved frequency response and enhanced efficiency. They are designed to be used with portable data collection systems, enabling accurate and repeatable readings to be taken from fixed or temporarily mounted sensors anywhere around a factory or process plant.
The HS-170 sensors have a high frequency response rate, with fast settling times. Improved frequency response, especially at low frequencies, allows the Premium HS-170 to respond even faster than standard accelerometers when data collectors are first plugged in. This allows plant engineers taking readings from multiple sensors around a factory to save considerable time.
The Premium HS-170 is part of the new Hansford Sensors' premium product family including top entry and side entry accelerometers with dual output temperature, plus integral cables and connectors. For more information please click here.
Latest 4-20mA industrial accelerometers
The latest Hansford Sensors' 4-20mA Transmitters(Loop Powered Sensors) offer the capability to interface directly with PLC, BMS, or SCADA, making them ideal for online monitoring.
Using Hansford Sensors' 4-20mA devices to measure lower value assets, such as fans and pumps, offers a cost-effective alternative when AC components are not required. For more information click here.
ATEX White Paper
Available as a free White Paper download from the Hansford Sensors' web site, our ATEX White Paper helps engineers understand the regulations implemented by the ATEX 95 Equipment Directive 94/9/EC and the ATEX 137 Workplace Directive 99/92/EC, and how these apply in different applications.
Titled 'Confused about the ATEX Directives?'the White Paper was co-authored with David Almond, Sales and Marketing Director at Pressure Vacuum Level Ltd. It addresses a number of common areas where errors in implementing the directives can occur and clarifies the zoning system for using ATEX registered products. To download please click here.
OTHER ARTICLES IN THIS SECTION