Home
>
Upgraded sizing & selection tool for linear motion systems
Editor's Pick
---
ARTICLE
Upgraded sizing & selection tool for linear motion systems
16 October 2019
Leading manufacturer of mechanical motion control solutions, Thomson Industries has enhanced its Linear Motioneering product sizing and selection tool for linear motion systems, reducing the time for component selection from hours to less than 15 minutes.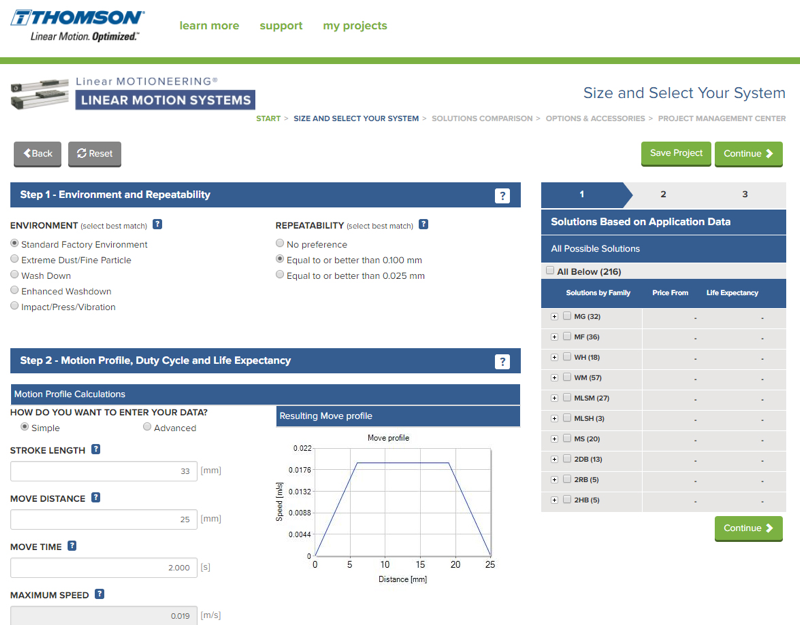 The upgraded resource also incorporates the RediMount motor mounting adapter kit, the new default standard for Thomson linear motion systems and precision linear actuators.
The Linear Motioneering tool retains the powerful Thomson engineering calculations that have proven so effective for design engineers and has added new product families, interactive navigation, expanded global support and mobile access.
"Linear motion system designers are under increasing pressure to get competitive products to market quickly," said Alexander Schollin, Product Line Specialist EMEA & Asia at Thomson – Systems Group. "We are fully committed to helping them do so by making system sizing as fast and effortless as possible. Our upgraded online selection capabilities enable them to specify linear motion units like ball screw-driven ball-guided units or belt-driven slide-guided units with the same ease of use and efficiency as one might expect from an e-commerce site or mobile application, while still having the confidence that their decisions are backed by the full weight of the Thomson engineering knowledge base."
The Linear Motioneering tool incorporates the improved RediMount adapter kit to its system in order to expand the possibilities and choices for design engineers. Whereas design engineers previously spent valuable time searching for the optimal motor flange kit and installing the individual components upon receipt, this is now the default standard for Thomson systems, enabling seamless motor and gear installation in less than five minutes.
For more than 10 years, design engineers have relied on the Thomson Linear Motioneering: Linear Motion Systems product selection tool to select an optimised solution for their applications. Upon entering requirements for orientation, support, stroke length, load and other attributes, they received a CAD-ready, three-dimensional model and an orderable bill of materials (BOM). Getting to that result, however, required extensive navigation and time. By using the latest online best practices to upgrade the product selector, Thomson has reduced sizing time dramatically.
Real-time adjustment
With the new navigation, users make all selections on a single screen. As they enter parameters, the system recalculates in real time, instantly revealing how each choice impacts their available options. This gives them the opportunity to make unlimited changes without ever needing to navigate to another screen. Once satisfied, the user simply accepts the choice and receives the complete BOM and ordering materials.
Improved filtering and comparison
System designers who already know what products they need will benefit from faster, more intuitive product filtering and comparisons. It is now easier for them to filter products on the attributes that most impact engineering calculations, such as cover type, material choice or environmental resistance. Or they can simply enter part numbers and receive the BOM immediately. Helping them narrow their choice further are comparison tables, which sort options based on variables such as highest safety factor and lifespan. The tool has been tested and optimised for the most popular tablets and smart phones.
Find Your Optimal Linear Motion System at: Linear Motioneering®
RELATED ARTICLES
No related articles listed
OTHER ARTICLES IN THIS SECTION