Home
>
Bosch names NSK 'Preferred Supplier'
Industry Update
---
ARTICLE
Bosch names NSK 'Preferred Supplier'
29 May 2013
Robert Bosch has named NSK Deutschland as its 'Preferred Supplier' for bearings. Bosch awards this title to suppliers who provide outstanding performance when it comes to manufacturing and delivering products or services – especially as regards quality, pricing, reliability, technology and ongoing improvements. The title also aims to form partnerships with suppliers, standardise processes and pool purchasing volumes around the world.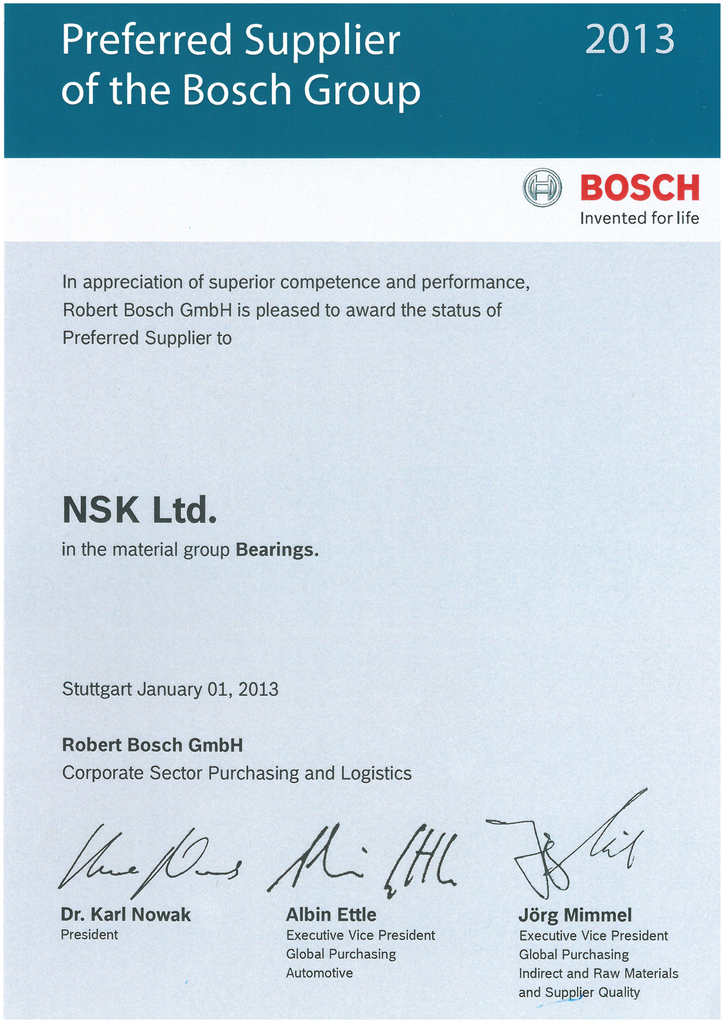 It is the fourth time in a row that NSK has been awarded the title. Bosch uses bearings from NSK in various different business units and application types. For example, its automotive technology unit uses them in electric motors for hybrid and electric vehicles, steering motors, DeNOx pumps for exhaust after treatment systems, engine cooling fans, ABS motor units and alternators.
NSK also supplies Bosch with products for its power tools and home appliances along with bearings for the industrial gearboxes used in wind turbines and their generators.

RELATED ARTICLES
No related articles listed
OTHER ARTICLES IN THIS SECTION