Home
>
Omron's 361° Approach – The perfect match in sensors and components
ARTICLE
Omron's 361° Approach – The perfect match in sensors and components
21 January 2014
At Omron your needs are our focus. We recognise that reliability, followed by a choice of performance levels depending on the application are vital when choosing the right sensor or component. In addition, you may also require advanced functionality with special features, but with competitive pricing. Often this can add up to a wish-list which, in the past, has been difficult to fulfil, but not any longer.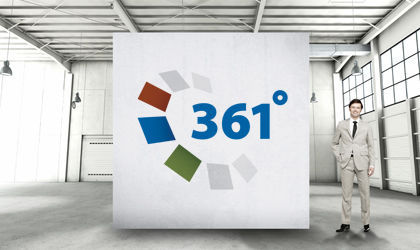 Omron has invested in a new 361º Approach to not only provide a complete all-round product offering for our control and switching components and sensors, but to also put you, the customer, at the very centre of the product selection process. This approach leads to the perfect product match, with that extra degree of confidence that you get when choosing an Omron product or solution.
Three distinct lines
Within the 361° Approach, Omron are offering three distinct lines within each sensor or component product category; LITE, PRO and PROplus:
LITE products
When it comes to the manufacturing and choice of materials for our components and sensors Omron is committed to maintaining the highest standards. And this translates into one big advantage for our customers: reliability, even in our cost-effective LITE range. LITE products are best suited to applications in standard industrial environments where conditions such as temperature, vibration, shock and humidity are within the normal ranges. All LITE products also offer a broad selection of options, to provide the best fit for the application.
PRO products
If you need extra performance from your sensors and components then the Omron PRO range is the perfect choice for you. Not only do PRO prodcuts give you a wide choice of features and performance levels it also gives you an extended mix of models for if, or when, your application changes or evolves. All of Omron's PRO products are available globally and provide specifications beyond the industrial standard.
PROplus products
If you have a complex application or one where you need to address special requirements, then PROplus products can provide the answer. This is because PROplus products have been designed with specific applications and environmental factors in mind and offer a range of components and sensors with specialist and advanced features already built-in. For example transparent material sensors, power supply redundancy models, hermetically sealed relays, hygienic stainless steel sensors and many more.
All three lines are backed by the Omron commitment to quality, so even when you need a price-competitive solution, you can be confident that the product will never let you down. The 361° Approach ensures that you can quickly and easily identify the perfect solution or product to meet your needs, with respect to both performance and cost.
Why an extra 1°?
The extra degree in the 361º Approach is what you get when you do choose Omron, and can mean different things to different customers, depending on their needs. For example, if you need specification advice, the extra degree can mean 'service'. But ultimately, to everyone it means "an extra degree of confidence in the perfect match".
RELATED ARTICLES
No related articles listed
OTHER ARTICLES IN THIS SECTION