ARTICLE
Component testing solution
15 August 2015
Wuxi XinDeBao has recently completed a successful flex coupling durability test program with a new simulation table specifically designed by Moog to handle smaller payloads of up to 100kg.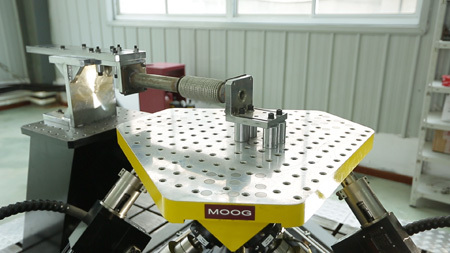 The Hydraulic Simulation Table 100 kg, (H-ST-100), is a new addition to Moog Simulation Table solutions, designed to meet XinDeBao's specifications for the testing of automobile exhaust pipes. It is also capable of performing durability evaluations of other small vehicle components. The Moog Simulation Table is available in electric or hydraulic versions depending on performance required.
With the Moog H-ST-100 test solution, XinDeBao can conduct flex coupling component durability tests to simulate the relevant movements of two boundaries in 6 degrees of freedom (DOF) from a real-time time history domain.
OTHER ARTICLES IN THIS SECTION