ARTICLE
Configurable control systems
03 April 2017
The base unit of the configurable control system PNOZmulti 2 from Pilz has grown: up to 12 safe expansion modules can now be connected on the right-hand side; a new output module with 14 semiconductor outputs for standard applications is also available. So larger projects can now be implemented simply and flexibly with PNOZmulti 2; several projects can also be managed in parallel.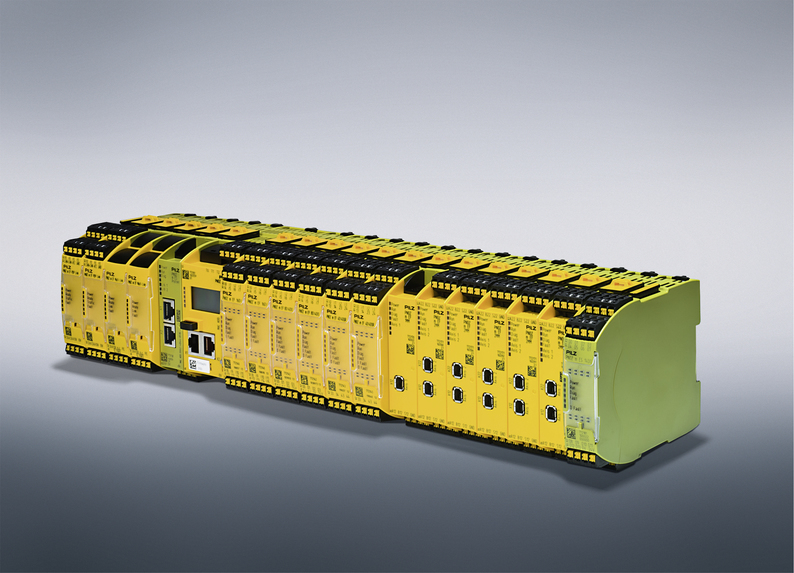 The expansion modules allow the control structure to be tailored more precisely to the application. This enables a finer granularity of the design, as the number of input and output modules and/or motion monitoring modules can be selected based on the application, as input and output modules are not required on the base unit PNOZ m B1.
Users save costs as they pay only for the functions that they actually require. Also the software tool PNOZmulti Configurator enables easy configuration of hardware, and the online help is available during parameterisation. This way, users save costs as well as time.
Module also for automation functions
A standard output module for automation applications is now also available. Its 14 semiconductor outputs can manage functions such as signal lamps or acoustic signals. It can also be used to transmit the signals of the safety control system to the operational control system. This includes, for example, the signalling of the status of E-STOP pushbuttons or safety gates.
Know what's happening faster New on board is the connection to Modbus/TCP. It is made directly via the base unit PNOZ m B1. Users save on hardware and can communicate faster. The base unit PNOZ m B1 also offers user-friendly diagnostics: this is facilitated by an illuminated display and clear diagnostic texts, which can be activated via the PVIS diagnostic solution from Pilz. Customer-specific texts can also be displayed, for example, in the respective language. In this way, short downtimes and therefore high plant availability can be guaranteed via optimised diagnostics.
Up to 1054 logic connections (connection lines) are possible with the base unit PNOZ m B1 in the software tool PNOZmulti Configurator. This way, large projects can also be configured safely. Several projects can be saved to a USB stick simultaneously and then managed by a project manager. Users may also transfer existing projects via a migration aid in the software tool: the migration assistant provides support when converting hardware from existing projects, which are to be transferred from PNOZmulti and/or PNOZmulti Mini to PNOZmulti 2 projects.
A video about the migration assistant is available after installation in the PNOZmulti Configurator in the "What's new?" window. This way, all the project contents are simply and quickly configurable, which saves users time and costs in their projects. Another new feature of the PNOZmulti Configurator for the base unit PNOZ m B1 is the function block for pressure-sensitive mats. It can be used to safely monitor all common pressure-sensitive mats.
Worldwide safety standard
The configurable control systems PNOZmulti 2 are open control systems and can therefore be used flexibly across industry, independent of the higher-level operational or plant control system. In doing so they achieve maximum safety: depending on the application up to PL e and SIL CL 3. PNOZmulti 2 is also certified worldwide and can be used independently of machine type, plant type, country or industry – so the configurable control systems can be used on an international scale for safety and automation functions. This is a benefit for the machine builder who wants to export into other countries.
OTHER ARTICLES IN THIS SECTION