Home
>
Red Lion Controls launches new generation of HMIs for factory automation
ARTICLE
Red Lion Controls launches new generation of HMIs for factory automation
23 October 2017
New CR1000 and CR3000 HMIs with Crimson® 3.1 Software improve developer and user experience, delivering protocol conversion, data logging and web server for monitoring and control.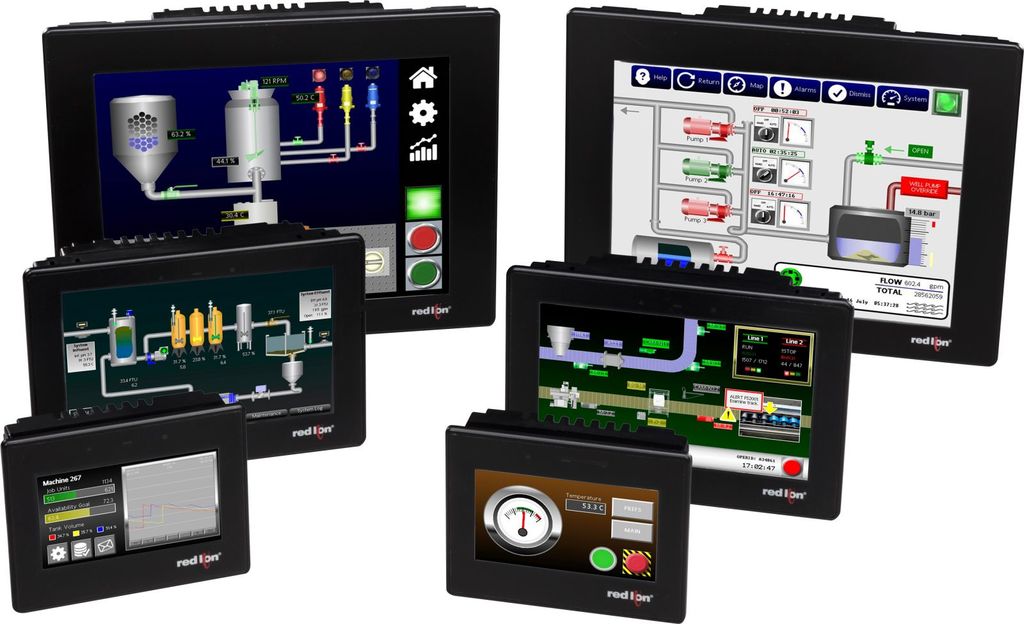 The new CR1000 and CR3000 HMIs are available in a broad range of sizes, from 4.3 inches up to 15 inches and feature a wide array of connectivity options to address the real-world challenges of today's multi-vendor manufacturing environments. These HMIs provide customers with the ability to quickly interconnect devices from a variety of leading manufacturers thanks to the built-in and ever-expanding library of more than 300 industrial protocols available with Crimson 3.1. Updated and expanded symbol libraries and primitives with anti-aliased rendering, as well as the ability to support 16M colors, provide designers with added options for creating interfaces that deliver greater visual effectiveness with a more natural appearance, resulting in screens that accelerate operator learning and enable greater comprehension of on-screen information, symbols and messaging.
With a built-in web server, the CR3000 allows users to securely monitor and control their application via PCs, tablets or smartphones. SMS text messaging and email alerts provide early warning of process issues, which helps to avoid costly downtime. Additionally, the CR3000 provides data logging, critical for both troubleshooting and meeting regulatory requirements.
The new HMIs are housed in a rugged polycarbonate enclosure and address the challenges of the manufacturing environment with wide operating temperatures of -10⁰C - +50⁰C, high shock and vibration tolerance and an IP66 rating. They are ideal for industries such as manufacturing, packaging, food and beverage, and plastics.
For more information about Red Lion and its new rugged CR HMIs, please visit here.
RELATED ARTICLES
No related articles listed
OTHER ARTICLES IN THIS SECTION