Home
>
Robotic drilling innovation
Robotic drilling innovation
08 May 2013
Engineers in the Advanced Manufacturing Research Centre's (AMRC) new Design & Prototyping Group have developed a compact gearbox for an innovative robotic drilling system.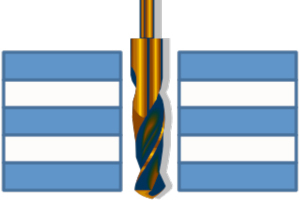 Using maxon motor's EC-4pole brushless DC motor the automated system can quickly adjust its parameters when drilling complex aerospace structures containing both metal and composite materials.
Designing such a tool is made more complicated by the fact that they often have to be deployed in confined spaces, such as within wing boxes or engine intake ducts. maxon motor's EC-4pole brushless motor proved to be highly suitable for this project, manufactured in a 22mm and 30mm version its high power density and speeds of up to 25,000rpm make it ideal for high performance drill applications.
Senior sales engineer, Paul Williams at maxon commented: "The brushless motor with MR (magnetic reluctance) encoder allows the customer to quickly control the exact speed and torque on the drill; AMRC innovative 2 speed gearhead allows high speed drilling with low torque and to high torque low speed to meet the different drilling parameters within one drill tool."
Following successful tests with the drill motor, the gearbox is now being integrated into the confined space drill chassis. Full test programs will trial the different options for material detection and investigate the process capability of the whole system for stack drilling.

RELATED ARTICLES
No related articles listed
OTHER ARTICLES IN THIS SECTION