Editor's Pick
---
ARTICLE
Get in touch with savings using combination PLC/HMI
03 June 2014
With its new SmartAxis Touch combination HMI/PLC, IDEC provides standard features to cater for the control and HMI needs of a diverse range of applications including small machines, and feed and dosing systems.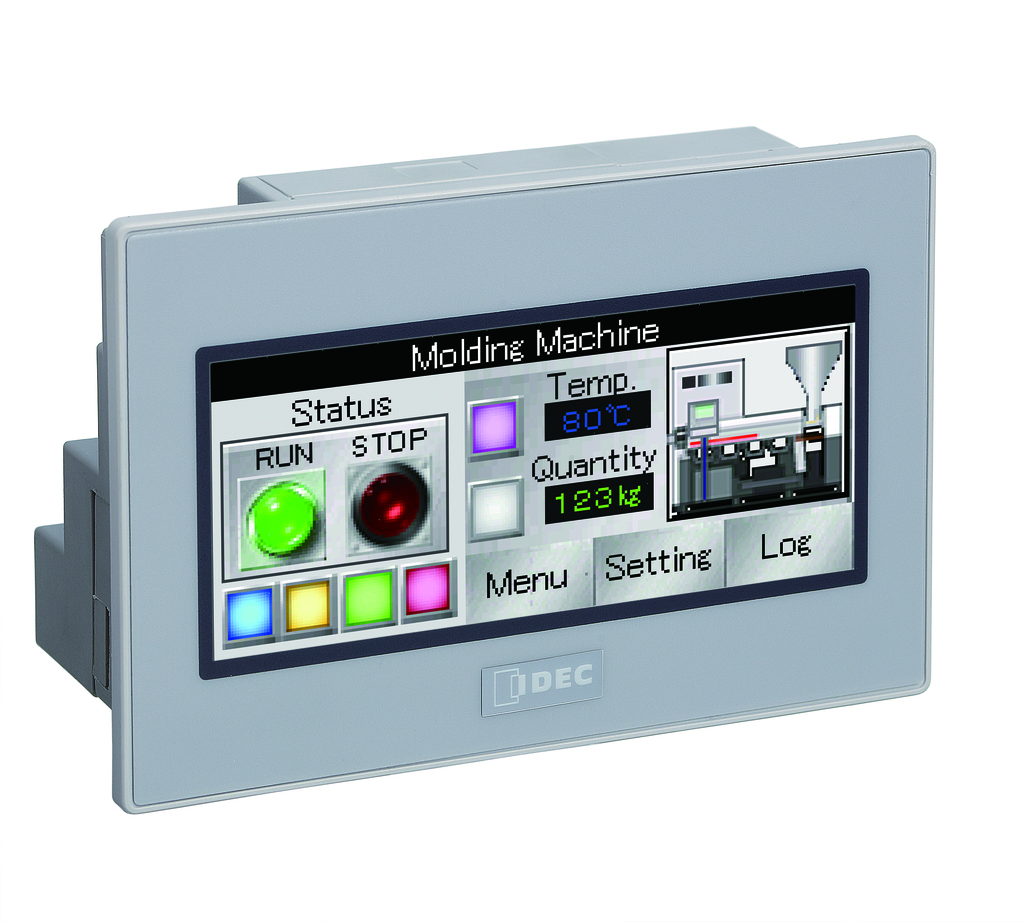 Debuted at last year's SPS IPC Drives, the product is already enjoying what is described as "instant success", something that Stephen Schiller, IDEC UK's MD attributes partly to the product's potential for cutting costs. Schiller identifies four factors which make savings possible in assembly:
As the unit has both the control I/O and display in the panel mount HMI body there is no need for space inside the control panel to mount the traditional PLC.
Then accepting that the 4 relay outputs on the controller are rated at 10A per point allows the direct connection of solenoids and small motors, removing the need for additional interposing relays.
This results in further space saving, and therefore further cost savings.
Eliminating need for these additional relays also means a further saving on wire and wiring time.
So, manufacturing/assembly costs are reduced, but the story does not end there – the product offers many technical advantages due to its high specification and features.
The screen size is 3.8" (100 x 300 pixels) and is a resistive touch format allowing freedom with screen design and button locations. A choice of either colour or mono is available – the colour version has 65K colours and a super bright, high-resolution LCD TFT screen while the mono version provides a 740cd/m2 LCD STN display, backlit by either a white, red or pick LED light to draw the attention of the operator when alarms are present or actions are needed.
High speed inputs
For applications which need high speed inputs from an encoder or similar pulse train apparatus or need to "catch" the input from a sensor detecting a fast moving target, the built in high speed inputs (single pulse 10kHz, 4 points or two phase 5kHz, 1 point) can easily accommodate these requirements. Two built-in analogue inputs (0-10V) provide for the connection of flow meters, distance sensors or other analogue devices.
Modbus protocol is used in either Modbus RTU or Modbus TCP/IP formats
The unit features RS232, RS485 and Ethernet ports, each working independently to allow the easy connection of a barcode reader (RS232), a process instrument such as a temperature controller (RS485) and up-stream data or information devices (Ethernet). The Modbus protocol is used in either Modbus RTU or Modbus TCP/IP formats. The Ethernet port can also support "remote maintenance" where the user can upload to/download from the SmartAxis from their remote location, which results in yet another cost saving.
Functions such as data-logging and program transfer can be achieved through the integrated USB port while programming is done via a mini-USB maintenance port. The screen can be utilised to display the status of I/O, easily check/adjust data variables and even view the ladder program – all of which can be password protected with the security function. Additionally there is a built-in real time clock with daylight saving function, ideal for many building and environmental control applications.
Key Points
SmartAxis Touch combination HMI/PLC has a resistive touch format, which allows freedom with screen design and button locations
Two built-in analogue inputs (0-10V) provide for the connection of flow meters, distance sensors or other analogue devices
The unit features RS232, RS485 and Ethernet ports, each working independently
Programming is via a mini-USB maintenance port
OTHER ARTICLES IN THIS SECTION