ARTICLE
Powerful power supplies
27 December 2014
The new PROmax switched-mode power supply units from Weidmüller provide powerful, versatile solutions for demanding automation tasks.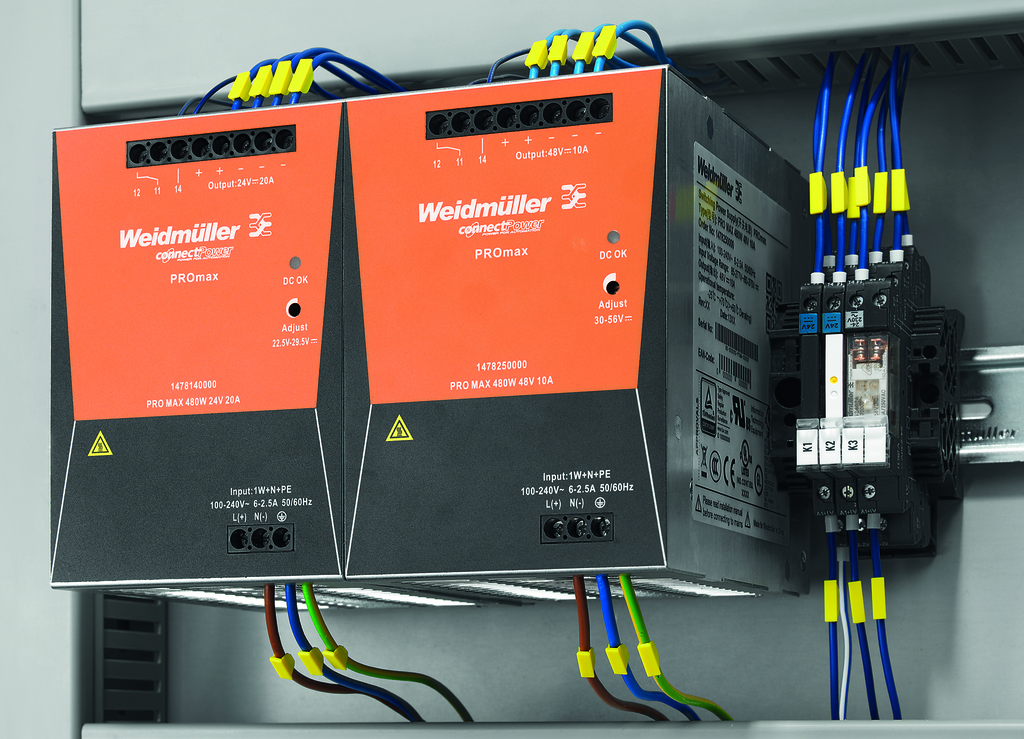 Large machines and systems with intense, transient loads at high cabinet temperatures are especially challenging. Failures caused by device defects can also impact on the entire production line and result in high costs. This is not the case with PROmax – the switched-mode power supply units supply the power required for overloads, even at high temperatures.
The new PROmax series of switched-mode power supply units supplies continuous overloads of up to 20% or transient peak loads of 300% with ease.
The PROmax offers high boost capability (150% power boost for 4 s and 120% at ≤ 45°C) and full capacity in the wide temperature range of -25 to +70°C. With start-up temperatures of -40°C, PROmax is proving itself to be especially robust. Thanks to their slim width and side-by-side mountability, PROmax devices save on installation space on the DIN rail.

PROmax devices are available in 16 variants: users can choose from 12 single-phase devices and 4 three-phase devices (from an output current of 3 A to 40 A and with output voltages of 5 V DC to 48 V DC).

PROmax is suitable for high loads and is designed to be extremely efficient. Two-coloured LED displays (on the front of the device for on-site analysis) and an integrated status relay (for remote monitoring) allow for swift condition diagnosis, making it easier for users to analyse conditions and errors – both during commissioning and subsequent operation.


OTHER ARTICLES IN THIS SECTION