Future fieldbus communication at STOBER
13 March 2015
STOBER has taken some strategic decisions in relation to its fieldbus communication.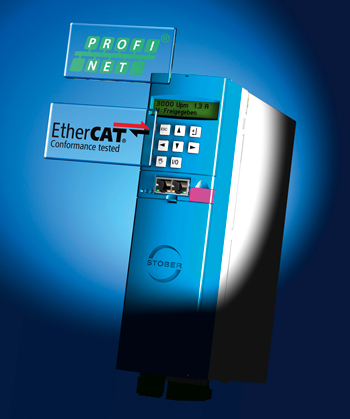 In future STOBER will rely on realtime Ethernet to couple controllers and drive technology, with a preference for open standards with wide market acceptance.
It is the view of the medium-sized enterprise that the future belongs to PROFINET/RT and EtherCAT. In particular, STOBER is of the view that PROFINET/RT is ideal for coupling controllers to its drives with integrated Motion Control.
As in the medium term SIEMENS will replace PROFIBUS with PROFINET/RT, many proven STOBER applications that make use of PROFIBUS will live on in the future as a result of these decisions; interconnectivity and interoperability with the controller manufacturer SIEMENS will also be ensured. A further advantage for the users is the support for the PROFIdrive standard.
As a consequence the strategic focus at STOBER is also on the subject of PROFISafe.
STOBER is one of the first organizations in the EtherCAT Technology Group (ETG) to have passed the newly created conformance test with flying colours for the complete 5th generation series of inverters.
OTHER ARTICLES IN THIS SECTION