ARTICLE
Tyre sector drive solutions
03 May 2016
Interroll components provide energy-efficient drive solutions to the tyre industry sector, including its 24V RollerDrive, a key high-performance product for optimising production flows.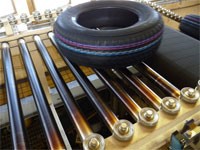 Interroll's roller drive, which consists of a brushless 24V AC drive integrated into a conveyor roll, is suitable for various types of conveying systems.
The basic purpose of the drive is to allow decentralisation and modularisation of zero-pressure accumulation conveyors. Interroll's roller drives allow materials to flow steadily and efficiently, feature low energy consumption and environmental impact, reduce maintenance and cut operating costs.
OTHER ARTICLES IN THIS SECTION