Editor's Pick
---
ARTICLE
Compact & lightweight mini robot
10 January 2020
Yaskawa UK Motoman Robotics division has unveiled what is believed to be the smallest, lightest, six-axis industrial robot specifically designed for small handling and assembly applications.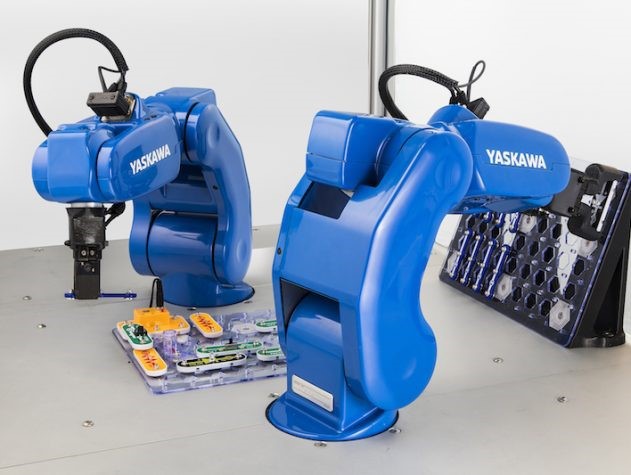 The MotoMINI 7kg lightweight, portable robot is easy to carry and install close to workpieces and other machinery in existing production lines or cells, providing a payload of 500g, a maximum horizontal reach of 350mm and vertical reach of 495mm.
MotoMINI offers acceleration times claimed to be 20% faster than comparable small robots and is suitable for table-top, floor, ceiling, tilt or wall-mount installations, saving valuable floor space whilst increasing productivity. A compact footprint of 191 x 124mm combined with 6-axis operation makes it ideal for handling smaller work pieces and components, also for assembly work in small production machines.
The cables and air lines are routed through the base to upper arm helping to increase cable life, enhancing safety and reducing teaching time. Also, a single robot to controller cable connection enables fast set-up while the powerful and precise ultra-compact YRC1000 micro controller minimises installation space and optimises performance.
MotoMINI's high repeatability of 0.02mm enables superior performance for small part handling and assembly and it's easy to change its location according to the production line operating condition, or the work piece being manufactured. A less than 65 dB (at maximum load and speed) ensures extremely quiet operation whilst home position data can be saved without battery connection for easy maintenance. MotoMINI is ideally suited to a wide of applications such as pick & place for small fittings, connectors and components in assembly, parts feeding, packaging, sorting and materials handling.
OTHER ARTICLES IN THIS SECTION