Home
>
Connectivity spectrum gains
Editor's Pick
---
ARTICLE
Connectivity spectrum gains
18 September 2020
SMC's Connectivity Spectrum shows machine builders the array of connectivity solutions available along with the increasing productivity gains deliverable as the user progresses along the spectrum.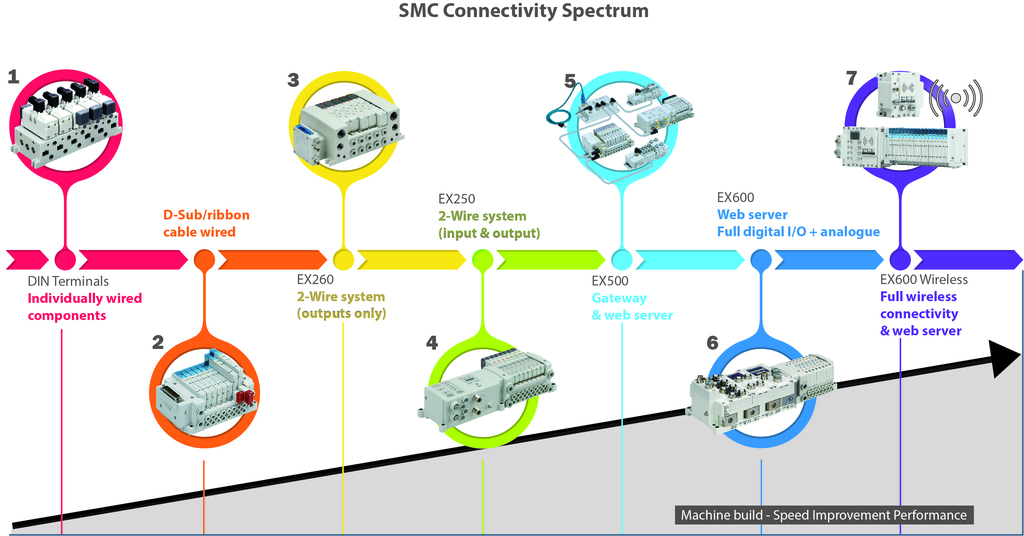 From basic hard-wired solutions through to SMC's Wireless valve manifold, it's an easy matter to review current connectivity and assess likely gains by investigating higher technology. Typically employing higher skilled staff, wiring is a big time-consumer in a machine build and considerable savings can be made by reducing the number of physical connections.
SMC's Product Manager Pete Humphreys commented: "One of our OEM customers was interested in connectivity efficiencies but wouldn't commit fully. An initial step from 2 to 3 showed the customer build savings of 25 hours per machine. Convinced, he then committed to step 6, delivering a total 80 hours per machine saving and a 12.5% increase in production."
Customers have also reported additional benefits of simplified drawings and maintenance manuals, quicker on-site commissioning and faster (even remote) fault diagnosis and field servicing.
RELATED ARTICLES
No related articles listed
OTHER ARTICLES IN THIS SECTION