ARTICLE
Inverter technology enables energy recovery
10 May 2013
The Hänel EcoDrive fully automatic, height-optimised storage system uses the compact Mitsubishi Electric FR-A741 frequency inverter with integrated energy recovery function.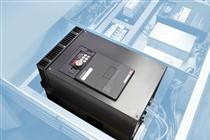 In order to increase energy efficiency, the installation can be expanded by adding the optional EcoDrive function. If the FR-A741 with integrated energy recovery function is used, it will convert the kinetic energy produced during the downward movement of the extractor (load-carrying device) into electrical energy and feed it back into the electrical supply system.
From there, it can be used cost-efficiently at another location, e.g. by other Lean-Lifts within a group. Depending on the travel capacity of the lift, up to 40% of the energy originally required for the downward movement can be recovered and fed into the power supply system. CO2 emissions can also be reduced as a result.
Its high level of performance makes the FR-A741 suitable for actuators or for controlling high-performance machines with regenerative torques, for example for applications involving vertical and horizontal movements, for conveyor systems, centrifugal separators, test equipment or winding machines.
OTHER ARTICLES IN THIS SECTION