ARTICLE
No pressure!
20 February 2014
Designed to be easier to use and maintain than a traditional pushbutton, the new KT51 series from ifm electronic consists of capacitive sensors built into a standard M22 pushbutton housing, complete with LED indication for actuation feedback.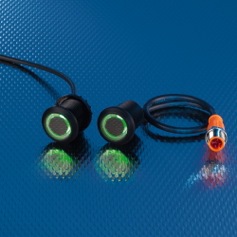 Despite requiring no physical pressure to activate the button (just the presence of even a gloved finger) the KT51 will not react to a film of moisture – in fact, it is sealed to IP69K on the front face. Fully sealed, the KT51 will not be contaminated by residue entering openings in the housing.
The product is available in two versions with either static or dynamic operation. Static operation means the switch is made while the operator's finger is present, while dynamic operation provides a fleeting pulse as the finger approaches, detecting a change and so ignoring any possible deposits left from the previous activation.
OTHER ARTICLES IN THIS SECTION