ARTICLE
Touch screen multi-camera embedded vision system
06 October 2014
A new, scalable multi-camera vision system complete with an integrated touch screen control panel is available from STEMMER IMAGING. The GEVA-312T is the latest addition to the Vision Appliance range from Teledyne DALSA and is a good choice for those who are looking for a complete system that is low-cost, expandable and applicable for a wide range of vision applications.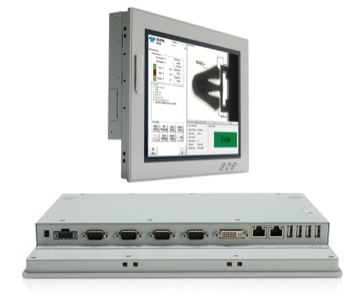 In addition to the 12-inch touch screen display, the GEVA-312T features a 1.6 GHz dual core processor and two Gigabit Ethernet camera ports for camera and network interfacing. Additional cameras can be accommodated using standard, low-cost Gigabit Ethernet switches, providing the flexibility for a host of applications including the final inspection of large assemblies.
Compatible with a wide range of GigE cameras, including Teledyne DALSA's full range of Genie cameras, the system is equipped with iNspect Express or Sherlock application software. These provide extensive vision capabilities, communication protocols and runtime operator interfaces for efficient factory integration.
The iNspect Express software offers a suite of standard capabilities inside an easy-to-use interface that simplifies vision deployment for many applications. For more advanced needs, Sherlock software offers additional flexibility and control that is better suited for vision integrators.
In addition to touch panel control, the front of the unit provides push button display adjustments and a USB port that allows convenient access for removable peripherals such as keyboard/mouse and backup storage.
OTHER ARTICLES IN THIS SECTION