PipeDrive - an unparalleled flange hollow shaft geared motor
13 March 2015
Without a doubt, a milestone in the innovative progress of drive technology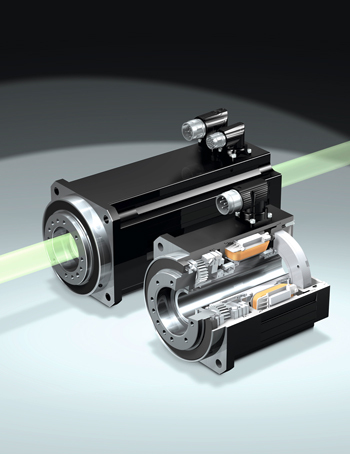 STOBER will be presenting the flange hollow shaft drive, now developed for series production, as a new series at the 2011 Hanover Industrial Exposition. The unusually large internal diameter of the hollow shaft (28 or 38 mm) is a significant feature that makes this product unique. This dimension allows for reliable feeding of supply lines, including not only power cables, hydraulic pipes and pneumatic hoses, but also shafts and laser beams.
A completely new, extremely short hollow shaft planetary gear unit was developed especially for these large passage widths. Its compact design is also optimally compatible with the new super-compact servo hollow shaft motor. To protect these components and media that will be fed through, the flange hollow shaft is completely clad with one continuous pipe.
The short design of the high-quality hollow shaft motor is based on a new winding technology that generates the highest possible copper fill factor. This measure increases the motor rating by about 80% compared to the previous standard winding technology, which has made it possible to reduce the length of the motor accordingly. The stable output drive bearing of the gear unit provides a high level of tilting stiffness, which allows for a very high reliable tilting moment. Since external fans cannot be used with hollow shaft drives, optional liquid cooling is available to increase the nominal torque.
Since this is a truly new design, the structural design of all components has been completely reassessed. The result is presented as the PipeDrive, which features a balance between powerful torque, high dynamic performance and precise constant speed for motor behavior. The dynamic behavior can also be modified.
The transmission ratios of the starting series have 1 to 3 stages and range from 3 to 27. The acceleration torque extends from 30 to 500 Nm. Hollow shaft motors are available in lengths 1, 2, 3 and 5 with gradations in 25-mm increments.
OTHER ARTICLES IN THIS SECTION