Editor's Pick
---
ARTICLE
Power-quality monitor
31 December 2015
The Yokogawa CW500 power quality monitor, a general-purpose unit for field and on-site testing and troubleshooting, features a range of clamp-on current probes, built-in data logging and measurements conforming to the IEC 6100-4-30 Class S standard.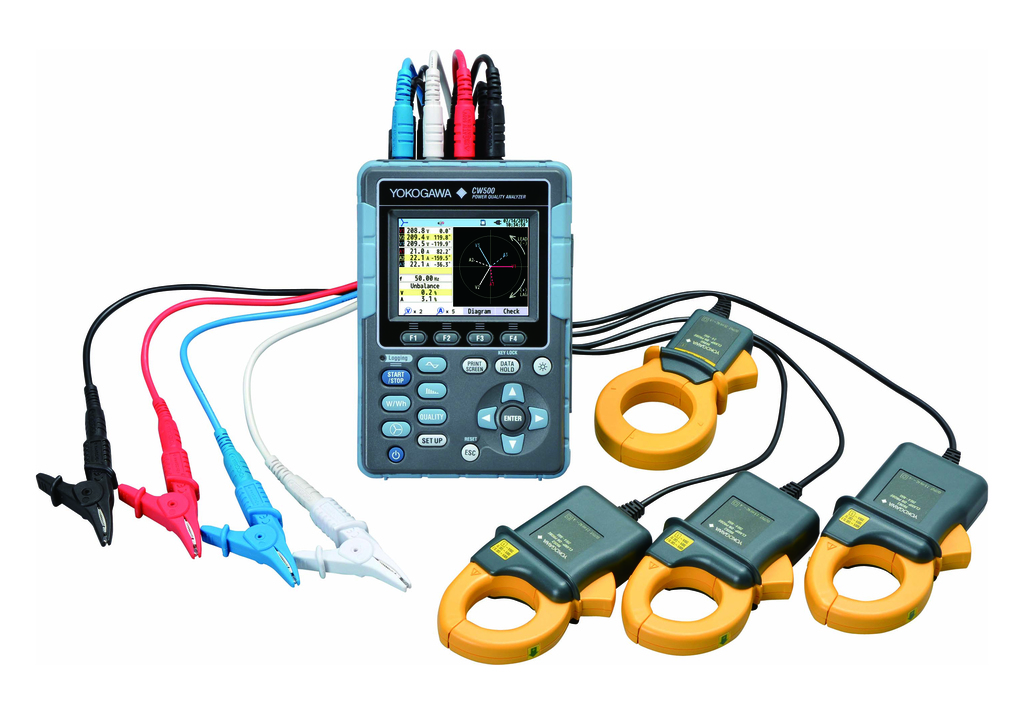 The multi-function instrument is designed to aid the inspection and maintenance of power quality in factories, commercial or public facilities. In particular, it will detect, measure and record events such as voltage swells, sags, dips or interruptions, inrush currents, harmonics distortion and flicker which can have an adverse effect on equipment operation or energy efficiency.
The 4-channel instrument can measure multiple power lines in configurations from single-phase/2-wire up to 3-phase/4-wire, and will simultaneously measure AC voltage input on three channels, current input on four channels and DC voltage input on two channels.
Parameters measured include the instantaneous, average and maximum/minimum values of voltage, current, DC input voltage, power, power factor and phase angle, along with phase advanced capacitance calculation.
All measurements are displayed on the built-in colour display screen in list, waveform, or trend formats with direct keypad control. The integration values of active, reactive and apparent energy are each displayed by consumption and generation, and demand power value can be monitored continually via graphical screens of power consumption compared to the targeted demand power value.
Intermittent anomalies such as voltage swell, voltage dip, voltage interruption, transient overvoltage and inrush current are each recorded as events and marked on occurrence waveforms, with the type of fault listed for each event. Ongoing or continuous faults such as harmonics, flicker and voltage or current imbalance rates are recorded with waveforms displayed as required.
The CW500 operates over an input AC voltage range from 6 to 1000 V and a DC voltage range from 100 mV to 10 V. The current ranges are from 2 A (for leakage current only) to 3000 A, with intermediate ranges of 50A, 100A, 200A, 500A and 1000A depending on which dedicated clamp-on current probe is used. Accuracy for power measurements is 0.3% of reading.
Up to 2 Gbyte of memory is provided by an SD memory card, and communication is via a USB interface which allows real-time management of measurements. Built-in PC software (CW500 Viewer) provides analysis of recorded data and report generation including automatic graph creation, as well as simple management of the main unit settings.
The CW500 is a compact and lightweight instrument measuring 175 × 120 × 68 mm and weighing 900 g with batteries. Power can be supplied via AC mains or by six LR6 batteries.
OTHER ARTICLES IN THIS SECTION