ARTICLE
Large LED Displays
09 October 2016
Red Lion offers a wide range of large LED displays with multiple inputs and optional output cards to meet a variety of visual display needs. Our large industrial displays are available with up to 4 inch (101 mm) tall characters and can display up to six digits to provide reliable visual display performance in industrial environments.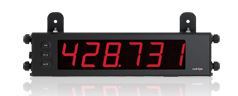 LD2 Large LED Displays
Red Lion's LD2 2.25 inch (57 mm) high LED displays are easily read from a distance of up to 130 feet. Housed in an extremely rugged aluminum case the product meets NEMA 4X/IP65 specification making this display perfect for industrial applications. Various models for count/rate, time, voltage/current/process, strain gage and serial slave display are available. Some models provide dual setpoints for control and RS-232 or RS-485 communication ports to allow the displayed data to be networked.
OTHER ARTICLES IN THIS SECTION