ARTICLE
Quality control enhanced
01 January 2017
The need to maximise quality, productivity and efficiency on production lines and in manual assembly cells has been met at Mitsubishi Electric Air Conditioning Europe by employing Guided Operator Solutions from sister company Mitsubishi Electric, Factory Automation.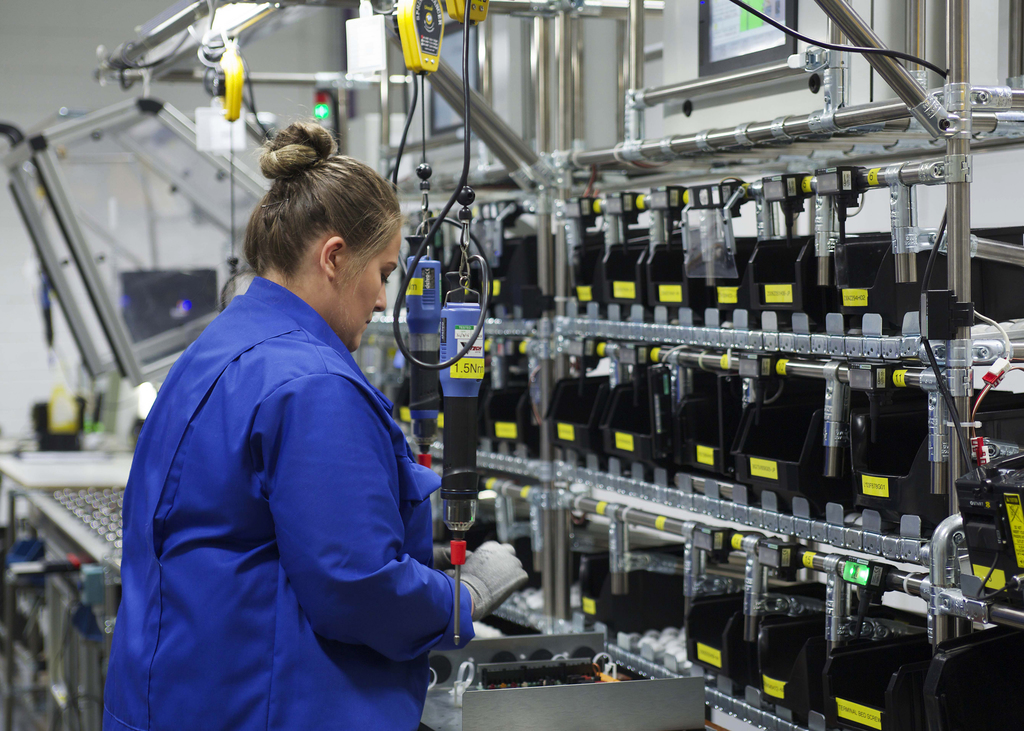 Guided Operator Solutions uses a PLC to control parts picking sequences using lights, doors, terminals and touch sensors. This is coupled with high definition HMI screens that guide operators through live assembly tasks.
The HMI screens have been used to replace a system of complex product cards that were previously used for work instructions. As part of the integrated Guided Operator Solutions, the screens allow for dynamic instructions and prompts to be added to a pick sequence that ensures the correct part is selected.
Production section manager, Mitsubishi Electric Air Conditioning Plant, Audrey Smith explained: "We operate semi-automated assembly cells, each of which offers the facility to assemble a number of different products. Due to the fact that we make several products in one work space there is a high potential for operator error. To combat this, operators have to have a high level of training in order to work on the assembly line." The high level of training required in the past also added to the overall cost of production, and so was an obvious target for improvement.
Greg Hookings, Senior Manager Strategic Business Development EMEA for Factory Automation at Mitsubishi Electric Europe added: "The complexity of the products was clearly a challenge for the operators and was resulting in picking mistakes. This often resulted in re-work of products, which significantly reduced the efficiency of the assembly process. Furthermore the process to identify which components were required in different air conditioning systems was also time consuming."
This challenge was solved by implementing Mitsubishi Electric, Factory Automation Guided Operator Solutions.
"Guided Operator Solutions were first installed in a cell assembling modules for heating and cooling units," says Smith. "Initially it was used only on the first two stages of the assembly operation, so that we could assess the benefits and see if it was worth moving forwards with."
For the trial installation a pick-to-light system with visual indicators on the parts bins was combined with light curtains or touch switches for pick confirmation. Mechanised doors that opened in sequence were also used to create a physical barrier to prevent wrong part selection. The effectiveness of each combination was compared and the results combined with user preferences in order to gauge overall effectiveness for different component bins and process sequences.
The variety of operator guidance devices ensured that a wide range of picking scenarios could be accommodated and tested. Each assembly station was then equipped with the most effective solution, improving quality, while also making the operator more productive and the production line more efficient.
The installation built for the air conditioning plant was commissioned around Mitsubishi Electric MELSEC Q series modular PLCs and GOT2000 HMI operator terminals, all connected over a dedicated network.
"From an operator's point of view, rather than complex paper based assembly instructions, the HMI now presents a set of clearly defined work instructions. It gives the operator a sequential visual indication of the parts to be picked for building each assembly, and their quantities," explains Smith. "Although the work instructions for the assembly of these products are complex and detailed, the installation has had an immediate impact on the assembly cells. Picking has not only become inherently more reliable and error-free, but also much faster. Quality and overall productivity have both shown a marked improvement."
Importantly, the application has also addressed the operator training challenge at the plant. The terminals now guide operators to the correct parts and the GOT HMI shows clear images of the product to be assembled. This has reduced the resource required for training, whilst actually improving the time taken to learn each process.
OTHER ARTICLES IN THIS SECTION