Home
>
A real Industry 4.0 solution
ARTICLE
A real Industry 4.0 solution
06 July 2017
Giving an example of how the shop floor and a Manufacturing Execution System can be linked successfully in the era of Industry 4.0, Festo Didactic and SAP have created an Open Integrated Factory. Using smart technology, work pieces in Festo Didactic's CP Factory 'tell' the machine how they should be processed.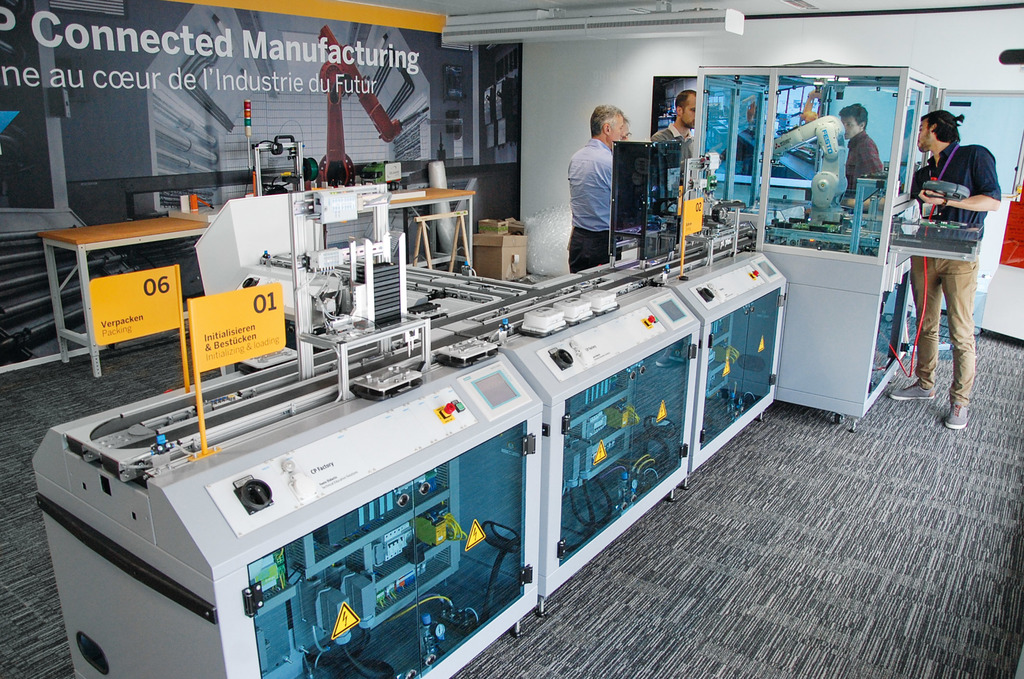 Based at SAP's Experience Business Center in Paris, the facility demonstrates the integration of manufacturing and IT that is at the heart of Industry 4.0. What makes this smart assembly line of just 8.60m length special are its work pieces: They communicate to the machine how they should be processed. Not only is it capable of producing two completely different products (a remote control or components for smart meters): One of the two can actually be built in up to 16 variations.
SAP product development and the SAP Co-Innovation Lab developed this scenario as part of a co-innovation project with Festo Didactic providing the systems technology. The scenario demonstrates that this production line can be run using SAP software.
The work pieces contain information in the form of production parameters. "The parts know what they are and can communicate with the facility through RFID technology. After approaching the correct station, they tell it which part and variant they are, and request to be processed with the appropriate method," says Frédéric Puche, head of SAP's Experience Business Center. Through the use of defined standards, product variations can be manufactured in any given order and quantity, all on the same production line. According to Festo, this make makes lot size 1 – the production of a single product with exact customer-defined specifications – a realistic proposal.
The basis of the Open Integrated Factory is the CP Factory. The cyper-physical learning and research platform is used by businesses in industry and educational facilities to train a broad range of technologies: from plant networking to PLC programming, drive technologies, sensor systems, safety technology, robotics, assembly as well as value chain analysis and optimisation. "For Industry 4.0 research and teaching purposes, the system can integrate with all open systems and communication standards such as OPC-UA", says Simon Colas, Didactic Education Manager at Festo France.
The CP Factory consists of individual cells that can be configured for diverse different production situations and can be linked to IT systems. The individual cells can be reconfigured in minutes to create new plant layouts. The patented passive work piece holder routing system makes it possible to operate each cell individually and to quickly set up an operational production line.
To see the CP factory in action, be sure to check out this video
RELATED ARTICLES
No related articles listed
OTHER ARTICLES IN THIS SECTION