Editor's Pick
---
ARTICLE
New synchronous motor starter hub
22 February 2019
When a utility company based in Saudi Arabia experienced operational problems with the starting hub of a critical synchronous motor drive (that the OEM deemed obsolete), Quartzelec was approached for technical support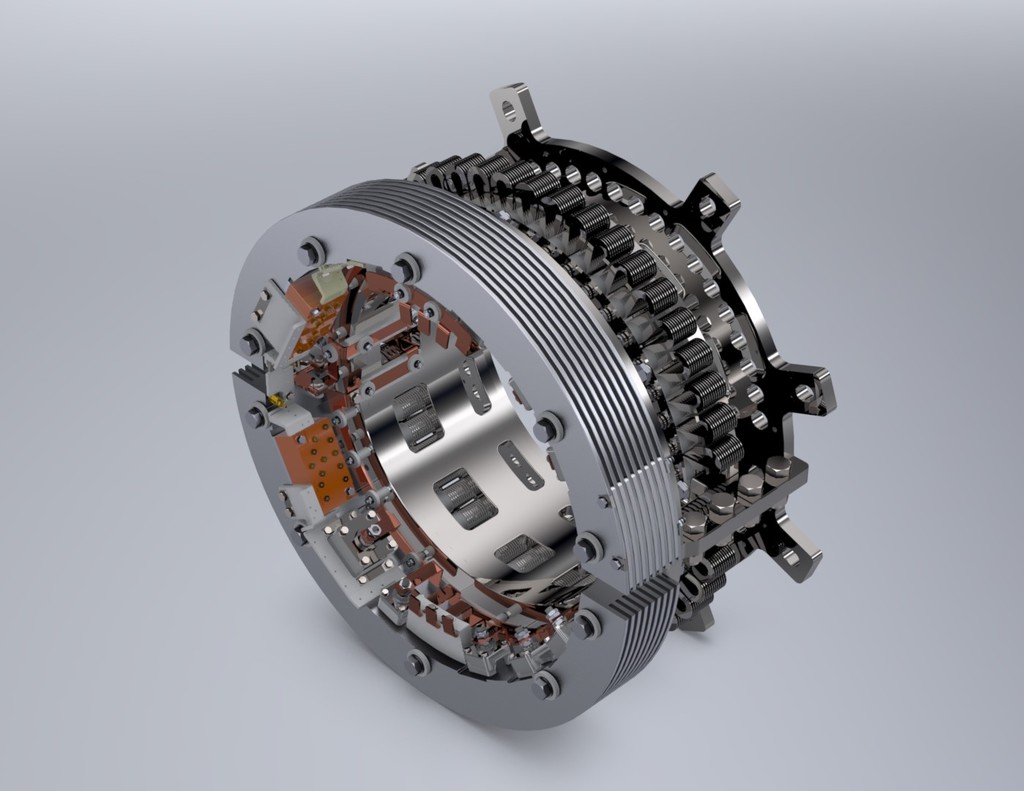 Rather than simply fabricating replacement components and 'nursing' others that were becoming increasingly unreliable, Quartzelec suggested fitting a new Rosenberry Hub; a cost effective solution for synchronous motor starting, often used in machine life extension programmes. However, upon inspection it was discovered that the in-situ vertical motor had no suitable end-of-shaft location.
Quartzelec rose to the challenge of designing and reengineering its original hub design, ultimately developing a totally new solution to fit around the shaft – creating the first ever Split Rosenberry Hub.
The stresses created when starting synchronous motors can cause serious equipment damage
The stresses created when starting synchronous motors can cause serious equipment damage but for fixed speed synchronous motors that need to start asynchronously, extra switching devices are installed on the rotor to allow the induced field currents to flow safely without damaging components.
Designed for mid-shaft mounting where there is insufficient space for conventional solutions, the new state-of-the-art electronic Split Rosenberry Hub can either be installed on a new motor or retrofitted to existing machines where components have become obsolete or the existing design is troublesome. This protects and enhances the operation and lifecycle of a host of rotating machine assets. The Rosenberry Hub range complements other Quartzelec branded and marketed products that include fault rated and certified terminal boxes, flexible condition monitoring services, electronic and pneumatic purge solutions; all available with ATEX and IECEx certification.
The replacement process
Within seven weeks of order placement, a full diagnostic check had been completed on the existing machine and a proposal for the new design approved. Over subsequent weeks Quartzelec engineered and tested the new hub before it was air freighted for installation in the utility company's plant.
The existing starting hub was removed along with all associated rotor-mounted controls, power cabling and resistor elements before being replaced with the new one. Each new Rosenberry Hub is supplied as a complete assembly for ease of installation; also dynamically balanced with a residual mass imbalance of less than two gram.metre. This ensures that the assembly has a neutral balance effect, but in-situ balancing can also be implemented during commissioning, if necessary.
"Our hub is designed with conservatively rated devices able to withstand high dv/dt with a high current (600Adc) rating; and it does the job perfectly," stated Ian Martin, design manager, Specialist Products at Quartzelec. "Our design not only improves motor safety and longevity but by reducing oscillating torques, stresses on other motor components are minimised making for a more efficient machine. The design and development order for our client went without a hitch and took just five months from initial contact to final commissioning and again proves our expertise and ability to breathe a new lease of life back into an ageing motor."
Based on Rosenberry Hub principles first developed in the 1990s, a typical hub weighs in at around 250kg and at 400mm in length can be fitted on machines with a rotor diameter up to a maximum of 425mm. Suitable for rotating speeds of up to 1500rpm, it is designed to run for more than 1,000,000 hours, so should deliver almost faultless operation throughout the life of the machine. The hub is also exceptionally flexible, being conservatively rated at 600Adc and 750Vdc (1500V PIV) and is appropriate for use on the majority of OEM manufactured synchronous motors.
When starting the motor, the stator supply is energised with no excitation being applied to the exciter field. This means the stator current produces a rotating field that induces an alternating voltage in the motor field which in turn forces the motor to accelerate until it reaches synchronous speed. Motor starting torque during run up is improved by a short term rated starting resistor within the rotor circuit which is switched out once the motor is synchronised to minimise losses.
Developed using devices with high dv/dt withstand, all components are easily accessed and have been specifically selected for rotating duties. Many of the standard silicon devices used are readily available to help minimise costs and provide supply chain security. The hub also features the minimum number of connections and wires to improve reliability. Full maintenance and support is also available from Quartzelec for any hub it delivers and full support for any machine can also be incorporated.
Key Points
Faced with reengineering its hub design, Quartzelec, ultimately developed the first ever Split Rosenberry Hub
The new state-of-the-art electronic Split Rosenberry Hub can either be installed on a new motor or retrofitted to existing machines
When starting the motor, the stator supply is energised with no excitation being applied to the exciter field
OTHER ARTICLES IN THIS SECTION