Editor's Pick
---
ARTICLE
Compact servo drives
21 January 2019
KEB Automation reports an increase in demand for its Combivert S6 range of high performance servo drives for a wide range of automation applications including robotics, materials handling, food and beverage processing, conveyors, printing and packaging machines.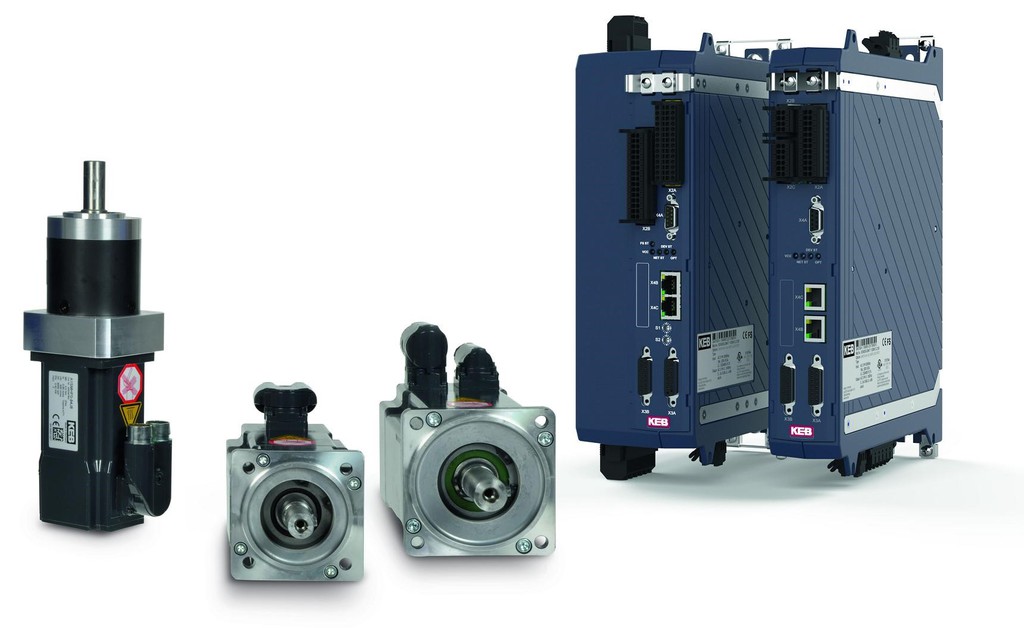 Compact, flexible and powerful, the Combivert S6 is suitable for a wide range of highly dynamic servo applications, including highly automated, safety-oriented machines. The drives provide optimal motor control in real time, integrated safety functionality and are designed in a compact, space-saving book-style format for easier mounting in control cabinets where space can be limited.
The Combivert S6 range of servo drives are 100% in-house designed and built by KEB Automation. The drives are available in two different enclosure sizes across motor power sizes from 0.75kW up to 5.5kW or electrical currents from 2.6A to 12.0A, with overload to 250%. The drives can be customised with a variety of design options to suit the specific application. Safety functionality can be selected from three modules to suit the requirements of the machine.
In addition to the control of widely-supported motor types such as synchronous, asynchronous, permanent magnet and synchronous reluctance, the Combivert S6 offers additional functions such as motor operation with encoder feedback or encoderless ASCL/SCL for precise speed control. A two-channel multi-encoder interface is provided on all modules, catering for all encoder types such as Resolver, TTL, HTL, SinCos, SSi, EnDAT, Hiperface and BiSS. Motor temperature monitoring is also available using PTC, KTY or PT1000 sensors.
Mark Checkley, sales & marketing manager at KEB comments: "The Combivert S6 servo drives complement our Combivert F6 range of drive controllers. However, the current overload capabilities of the S6 are much higher than the F6, making it suitable for much more demanding, dynamic applications, typically, where masses need to be moved faster in much shorter time periods."
Modular safety concept
With drive-based safety, safety functions are shifted into the drive platform, which means the cost of separate protective devices and cabling are reduced. The S6 is available in two control versions:
The S6-K (COMPACT) version is highly integrated and compact with everything onboard, including STO (Safe Torque Off) as standard. This version offers the best price-performance ratio and offers real time Ethernet control (EtherCAT) as well as CAN and DIAGNOSTIC RS 232/485 communications interfaces as standard.
The S6-A (APPLICATION) version is a flexible, modular design that allows scaleable functional safety, from basic STO to encoder-based safe motion. Optional use of current speed-based safety functions (e.g. Safe Limited Speed, Safe Maximum Speed, Safe Operating Stop, and Safe Direction) is available. All safety functions can be used in applications up to IEC 62061-SIL3 in accordance with IEC 61508 or up to PLe in accordance with ISO 13849. The safety functions are controlled via secure digital inputs or via FSoE (FailSafe over EtherCAT). The S6-A also provides more real time fieldbus control options and safety PLC communications (EtherCAT, PROFINET, POWERLINK), giving the end user a genuine Industry 4.0/IoT-capable servo drive.
The S6 provides status LEDs, motor terminals and DC supply terminals. I/O options include 8 x digital inputs, 2 x digital outputs, 1 x relay, 2 x analogue inputs, 1 x analogue output and a 24V DC supply.
Servo motors, gears & accessories
The S6 can also be matched with KEB's DL3 range of robust servo motors, which are available in five sizes. These servo motors can also be paired with KEB planetary gearheads with low rotational backlash. The TA series from KEB combines in direct connection the servo motor and industrial gears in helical, helical bevel, helical worm and flat designs. This flexibility enables complete servo drive systems to be designed that precisely match the requirements of the application.
A range of accessories are also available for the S6, including mains chokes, EMC filters and braking resistors, as well as pre-fabricated motor and encoder cables.
Start up & analysis software
KEB Automation also provides its easy-to-use software, COMBIVIS 6, for start up, administration and analysis. This includes start-up Wizards for quick and easy product configuration, direct access to device documentation, a 16-channel oscilloscope for extensive analysis, as well as enabling online drive parameter list comparisons and the set up of key safety indicators and functions. With a foundation built on libraries, devices and template databases, COMBIVIS 6 allows rapid, simple solutions to be generated for a wide range of applications.
OTHER ARTICLES IN THIS SECTION