Editor's Pick
---
ARTICLE
BLH Nobel offers enhanced visibility with G5 DIN rail mount with display instrument
08 August 2019
The BLH Nobel brand of Vishay Precision Group, a leading producer of precision sensors and systems, including high-quality and high-accuracy weighing and control systems, has introduced the new G5 DIN Rail Mount with Display (G5-RMD).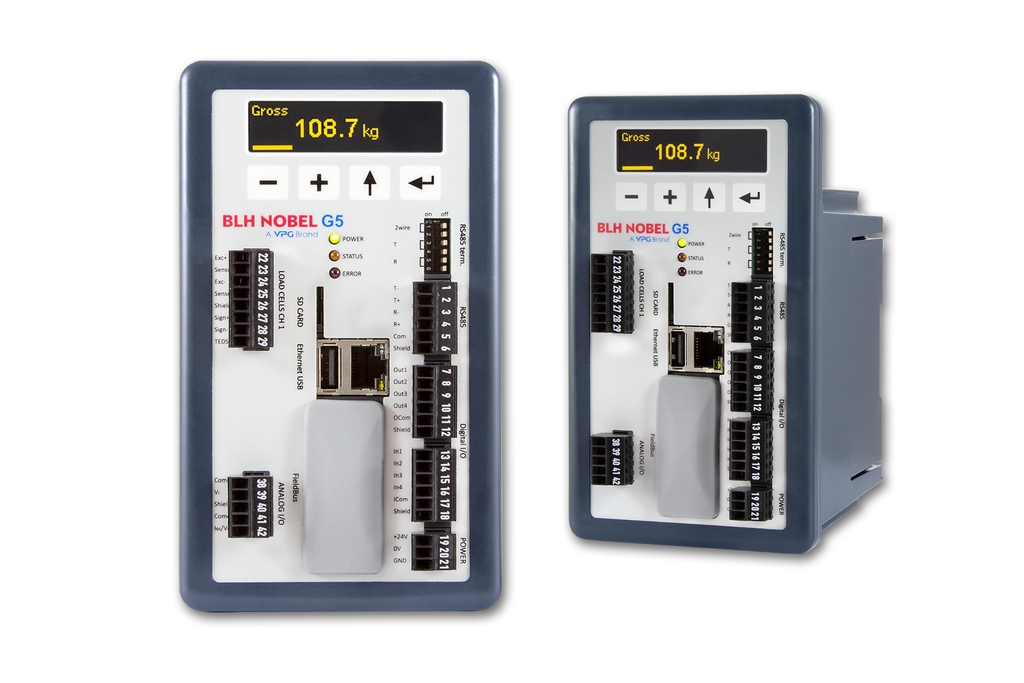 The instrument provides enhanced visibility of process data such as weight and status, and the advanced display and functional keypad allow easy navigation through parameters, menus and settings.
Offering high-speed and high-performance control for industrial weighing and force measurement, the BLH Nobel G5 process control instrument sets new performance standards for application demands of today while meeting tomorrow's expanding requirements. G5 provides a highly flexible instrument for customer process automation needs. The instrument setup is possible with the new display and keypad and diagnostic abilities are available directly from the instrument's display and keypad.
Benefits of the G5-RMD include, web interface with diagnostics, process data and set-up capabilities, full weighing functionality as with a weighing indicator, connection possibilities to zenerbarriers, simple back-up and restore features with built-in web interface, a the ability to provide more precise theoretical calibration in reality. On the G5-RMD, a built-in web server facilitates quick and easy operation and simplifies parameter changes through any web-supporting device. The new monochrome advanced OLED display provides visibility of process data such as weight and status, as well as parameters and diagnostics information. Furthermore, one can configure digital inputs and outputs according to their specific needs.
With flexible fieldbus interface, several industrial communication interfaces such as Ethernet, RS485 and optional fieldbuses are available, each complying with industry standard protocols. Analogue output (current or voltage) is available as well on the G5-RMD and software upgrades can be readily installed in the field using a SD Card. The G5-RMD's durable plastic enclosure is IP20 rated and the unit is designed for 24 Volt DC operation.
The G5 DIN Rail Mount with Display (G5-RMD) is ideal for applications in process weighing and control, force measurement, high-speed dynamic measurement, and factory automation.
A genuine partner to the G4 and G5 series of BLH Nobel instruments are KIS beam technology load cells. BLH Nobel technology incorporates Micro-Measurements SR-4 foil strain gages connected as a full Wheatstone bridge that is temperature compensated and calibrated to deliver high accuracy and repeatability. Bonding the gages close together inside a machined "I" beam pocket eliminates side force signals. Fitting a cantilever sleeve over the pin offers further advantages such as reduced bending stress by 50%, moveable load point above the gage area and only actual forces applied are measured. This design is particularly effective for process weighing applications suffering from vibration, twisting moments due to agitation and thermal expansion of the vessel during run cycles.
For more than 40 years, the BLH Nobel brand of VPG has specialised in the design, development and manufacture of high-quality and high-accuracy process weighing and force measurement technologies and related control systems. BLH Nobel load cells maximize accuracy and minimize the effects of mixing, agitation, and temperature changes within critical process stages. BLH Nobel products and customized solutions are designed to comply with stringent requirements in the food and beverage, pulp and paper, pharmaceutical manufacturing, medical equipment, process, mining, steel, and offshore industries. The brand further offers a wide variety of communication protocols for seamless integration within complex production lines. It also supplies system solutions, products, and services in more than 100 countries worldwide. Each BLH Nobel custom solution is derived from more than 40 years of engineering expertise, gained from across thousands of successful applications.
For more information on these and other product offerings, visit www.blhnobel.com.
MORE FROM THIS COMPANY
No related articles listed
OTHER ARTICLES IN THIS SECTION