Editor's Pick
---
ARTICLE
Smart graphics display; without writing code
10 January 2020
Lascar's PanelPilotACE is a software and hardware display platform ideal for rapid development of touchscreen machine interfaces and control monitoring displays – without writing code.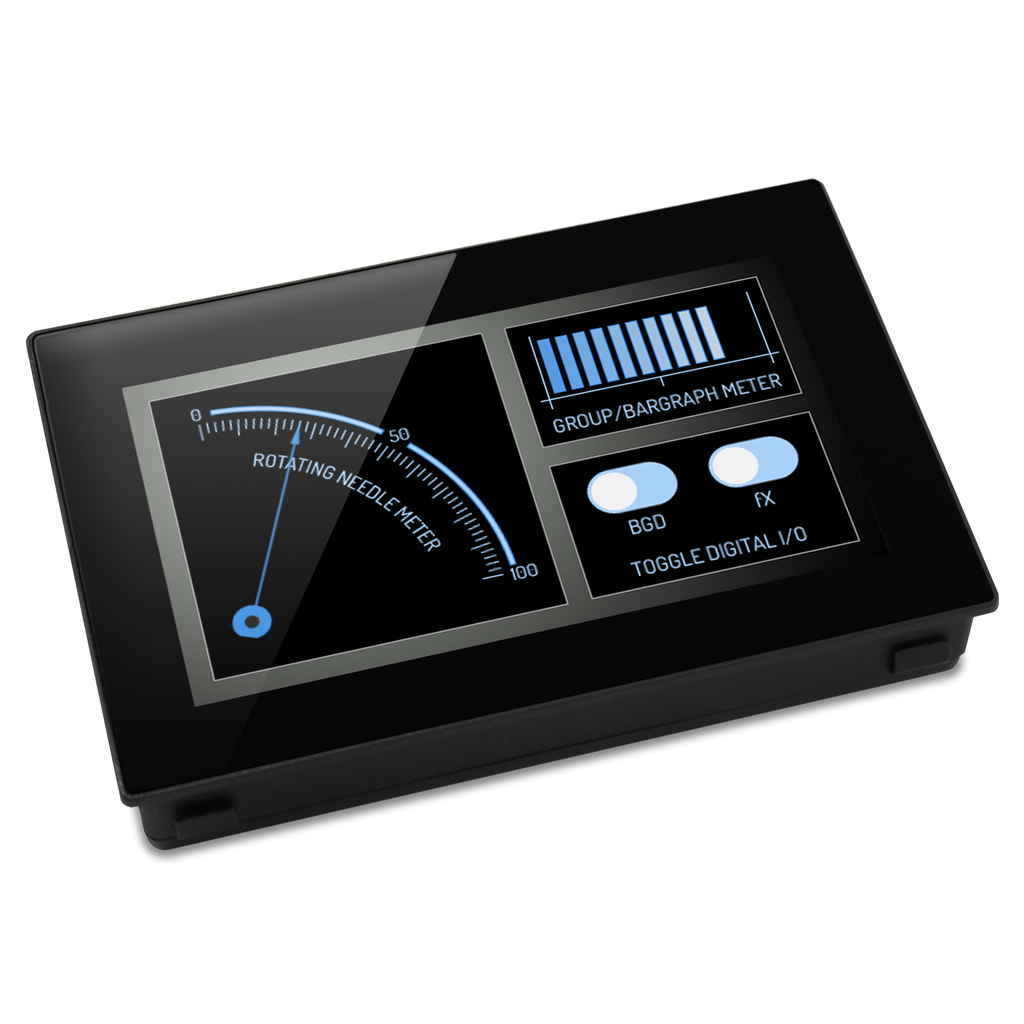 Free to download, PanelPilot Design Studio software allows users to build multi-page interfaces for compatible displays without writing any code - from background images to text elements, analogue and digital style meters, touch screen navigation, complex logic statements, serial communications, data logging, trend graphs and maths functionality.
The 4.3" SGD 43-A and 7" SGD 70-A displays run projects created in the PanelPilotACE Design Studio software. Both are available for under £300 (with significant discounts available on volume purchases), featuring high-resolution capacitive touch screens, four 16-bit bi-polar analogue inputs, eight digital input/output pins, two alarm outputs, four PWM outputs, RS232/485 comms, CAN bus (SGD 70-A only) and FTP transfer of logged data via wired Ethernet.
The innovative Design Studio software is constantly evolving with some exciting new features recently launched:
CAN bus: The S70-CAN add-on board provides a 3-wire CAN bus interface for the SGD 70-A, 7" PanelPilotACE display. This means PanelPilotACE display technology can now be used in conjunction with the popular CAN bus protocol, opening up a wide-range of control and monitoring possibilities, including automotive applications.
PID Control: PID control functionality allows PanelPilotACE displays to be used as PID control units. Set P, I and D coefficients, then measure a process variable and use PanelPilotACE to correct to your desired set point, e.g. vary a fan speed to maintain a temperature.
Ethernet FTP: for Logged Data No need to connect PanelPilotACE to your computer via USB to obtain logged data - you can now connect it to an FTP server via an Ethernet cable. This Ethernet FTP capability allows quicker and more convenient data collection, particularly useful when you are running time-sensitive applications.
Multi-Channel Data Logging: No longer restricted to just one data logging channel - you now have 10. PanelPilotACE allows you to log any input to the device that can be defined numerically. Now record more temperatures at once, as well as other parameters including voltage and current.
Trend Graphs: The Trend Graphs functionality has been upgraded to display the new multi-channel logging feature, enhancing PanelPilotACE's capability as a monitoring device. If you use an alarm threshold as one of your data channels, Trend Graphs will let you monitor logged data against alarm level.
For further information on PanelPilotACE displays and software, visit www.panelpilot.com or download Design Studio software today at www.lascarelectronics.com/software/panelpilotace-design-studio and build your own application before committing to hardware.
OTHER ARTICLES IN THIS SECTION