Editor's Pick
---
Multi-touch monitors
03 December 2013
Kontron has extended its portfolio with a new series of durable, industrial multi-touch monitors. Designated OmniView, like the panel PCs, they offer projective-capacitive (PCAP) multi-touch functionality in a high quality 16:9 wide-screen design with joint-free glass surfaces.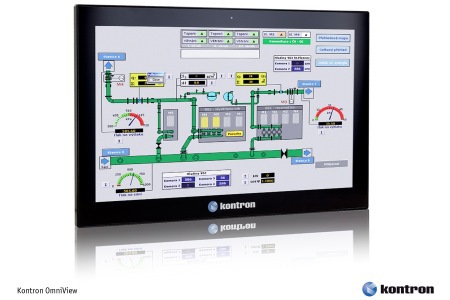 With the expanded product portfolio, customers can realise multi-touch-based multi-screen solutions extremely efficiently, thanks to the availability of panel PCs and monitors from one single source with an identical look and feel. The new industrial monitors featuring IP65 front protection are also interoperable with any industrial PC.
Norbert Hauser, head of Business Line Industrial Automation, comments on the strategy of extending the OmniClient Panel PC family with monitors: "Multi-touch and multi-screen solutions are a mega-trend in industrial automation. When it comes to multi-screen-based multi-touch solutions with panel PCs, machine and plant operators ideally want to purchase everything from a single source.
"We have designed our OmniClient Panel PC series in such a modular way, that we can completely separate the IPC function from the monitor. That results in not one product but three: a panel PC, an industrial monitor, and a long distance interface to bridge remote system installations up to 30 meters. Customers can assemble their specific configuration very flexibly – with, however, the advantage that system responsibility remains in one hand."
OTHER ARTICLES IN THIS SECTION