Home
>
Connection between cable shield & equipotential bonding bar in PROFINET applications
Editor's Pick
---
ARTICLE
Connection between cable shield & equipotential bonding bar in PROFINET applications
15 October 2019
The PROFINET installation guidelines point out that PROFINET must be fixed or have strain-relieved cables above and below the shield connection. The cable shield must not be used for strain relief. The cable shield is not suitable to absorb mechanical tensile forces. Otherwise it is very likely that the cable shield will be damaged under tensile load. The cable jacket (outer sheath) is suitable for strain relief.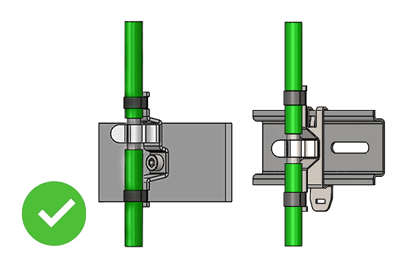 For compliant icotek solutions visit https://www.icotek.com/en/profinet/#c34650
When establishing the shield connection, please note the following:
Remove the PROFINET cable jacket only for the required connection surface. The PROFINET cable is susceptible to mechanical damage in the area where the jacket has been removed.
Be careful not to damage the shield when stripping off the PROFINET cable jacket.
Do not use the shield connection as a strain relief location. This would reduce the contact quality between the shield and the equipotential bonding bar. Exception: installation components specifically designed for this type of application.
Secure the PROFINET cable above and below the shield connection position. The PROFINET cable can thus be protected against bending. Pay particular attention to strain relief if the cable is exposed to motion.
Use only connection components that are suitable for the diameter of the stripped cable.
Do not attach the equipotential bonding bar to coated surfaces. Galvanised or chromed surfaces, for example, are well suited. Use tin-plated, galvanised or otherwise galvanically treated installation material which is protected against corrosion and establishes a permanent high quality contact.
RELATED ARTICLES
No related articles listed
OTHER ARTICLES IN THIS SECTION