Editor's Pick
---
ARTICLE
Non-contact sensing
15 October 2014
Offering the versatility to perform a wealth of non-contact sensing tasks in heavy duty and high-speed production environments, the SICK CQ4 miniature capacitive proximity sensor is easy to use and install. It has a rapid switching frequency of up to 100Hz and a sensing range of up to 8mm, making it ideal for high-speed object detection through non-metallic surfaces.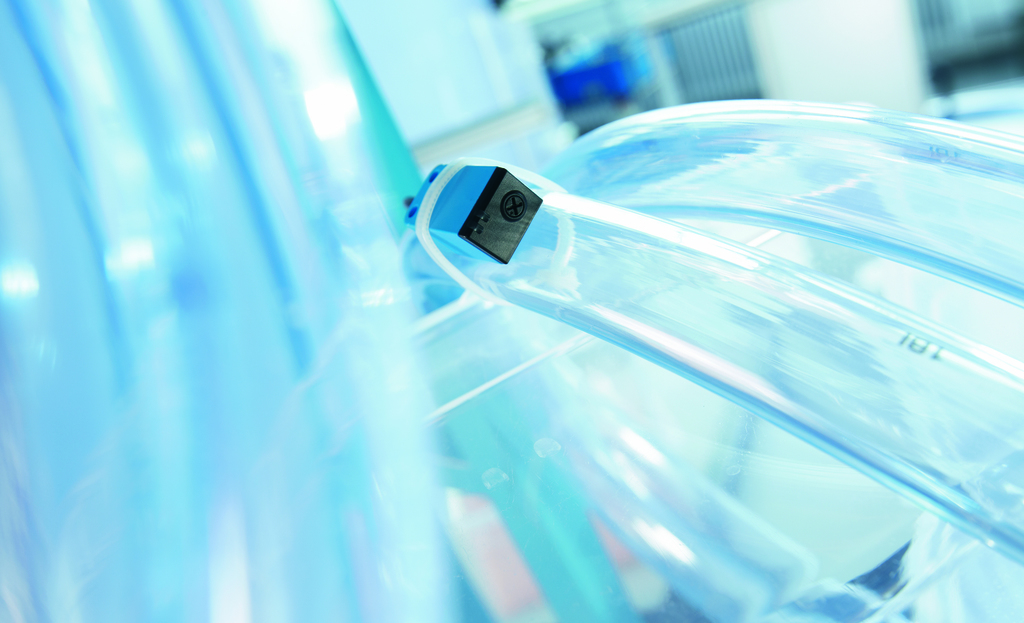 Applications range from food, packaging and medical equipment manufacture to electronic and solar assembly and level sensing for liquids, powders and solids.
"The CQ4 is no larger than a couple of cubes of sugar with the sensitivity and rugged construction to be used almost anywhere you might have struggled to find the space to install a sensor before," says Phil Dyas SICK (UK) industrial sensor specialist.
"Because the CQ4 is a capacitive sensor with a range of up to 8mm through non-metallic materials, you don't have to cut a hole in a pipe or vessel wall for example, so there are no sealing issues. Often non-contact sensors are fastened with cable ties to a plastic pipe or a container wall and the CQ4 has a helpful mounting groove at the back to ensure the sensor remains securely in place.
"At the same time it is easy to adjust the sensitivity and range for optimum detection performance, with a potentiometer control. The CQ4 is very easy to set up and commission and the wide choice of switching output options and connection configurations give the engineer plenty of scope for optimising selection to match the production specifications."
The CQ4 can reliably detect wafers in the different production steps in electronics and solar manufacture. In the food and beverage industry it can detect products inside packages, e.g. on tray sealer machines. In the pharmaceutical and cosmetics packaging applications it can be used, for example, to detect rubber plugs in vials or syringes.
Because it can detect through non-metallic surfaces it is also suitable for fill level monitoring for example of ink levels in printing machines or containers.
The new SICK CQ4 capacitive sensor is contained in a 39.5 x 12 x16mm highly-durable fibreglass mounting with IP67 protection and the integral metal fastening threads ensure secure connection under industrial use conditions. With rapid 100Hz switching, it is able to provide real time detection to match application changes for precise production control and feedback.
The CQ4 is simple to commission and the LED indicators in the housing provide a clear status for voltage, switching output and short-circuit operation at all times. The range of versatile mounting brackets includes floor, wall and a swivelling ball mount. The combination of mounting options and switching options offer a choice of 12 versions to meet most plant requirements.
OTHER ARTICLES IN THIS SECTION