ARTICLE
Sweetcorn factory first
16 June 2015
A successful UK factory trial involving a FANUC M-10iA series robot and a novel vacuum gripper technology has achieved pick and place of sweetcorn cobs at speeds of 180 packs per minute.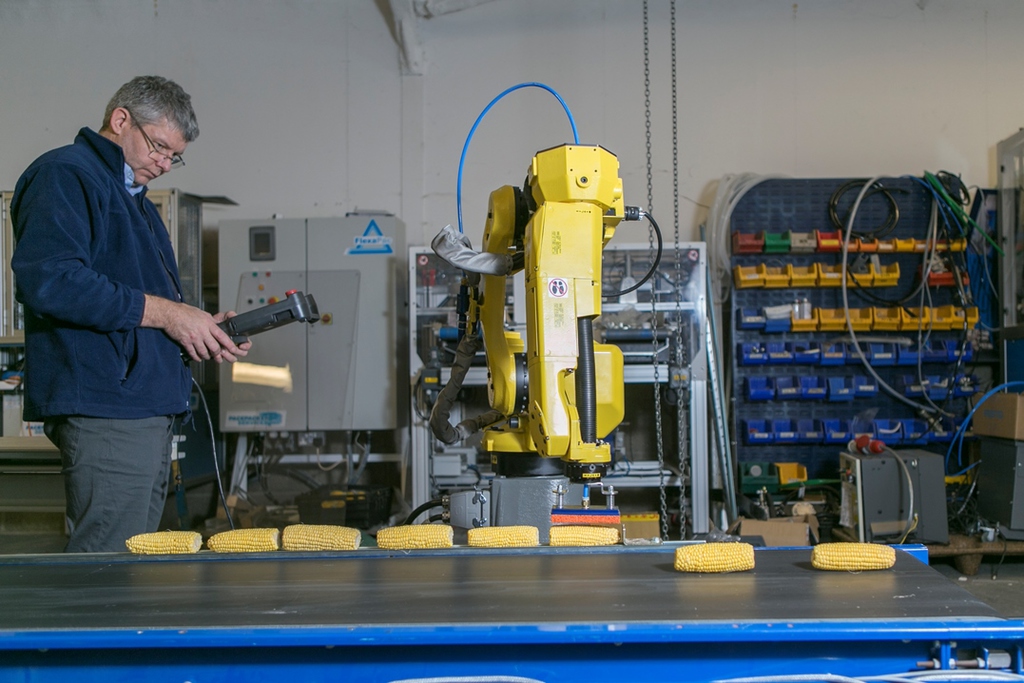 Besides providing proof of principle that robotics can be employed to handle this challenging product, the trial demonstrated that on a line manned by two operators per shift, the robot could pay for itself within a year.
"We were delighted with the outcome of the trial. It is the first time to our knowledge, sweetcorn cobs have been handled by an articulated arm robot, which has the potential to reduce capital outlay compared to delta robots. Loading sweetcorn into the flow wrapper infeed has always been a labour intensive task in factories, because no automated solution existed," says John Rainer, regional sales manager at FANUC UK.
He continues: "The advantages of using robotics for this application are huge. The cost savings that are gleaned from replacing human labour with a robot at a lower price point alone justify the capital investment. Added to this, a robot will assume this dull, repetitive task with precision, at a consistently high speed, delivering significant production efficiency improvements and eliminating the repetitive strain injuries associated with this type of activity."
The M-10iA, FANUC's latest generation six-axis, high performance robot, features a compact arm that weighs just 130kg but provides a payload of 10kg with the highest wrist movement and inertia in its class. The M-10iA also boasts the highest axis speeds and best repeatability in its class, making for an extremely fast and consistent robot.
In the trial, after being manually dehusked, pairs of sweetcorn cobs were being picked from a conveyor by the M-10iA and placed into pockets within a flighted belt feeding the flow wrapper.
Whilst this system was configured to load two cobs at a time, FANUC says it had the capability to pick and place up to six cobs simultaneously. Furthermore, for even faster speeds, the M-10iA could be replaced with the M-20iA, whose 20kg payload would enable up to 12 cobs to be handled in one movement, potentially doubling output to 360 packs per minute.
The robot used in this trial was integrated by FANUC's partner, Pacepacker Services, who also developed a special vacuum gripper for this application.
"A standard vacuum cup would struggle to create and hold a vacuum on the uneven, curved surface of a sweetcorn cob, and any other type of gripper would damage the product. We engineered a special vacuum system that moulds around the cob. The vacuum is gentle, efficient and reliable," says Paul Wilkinson, business development manager at Pacepacker Services.


OTHER ARTICLES IN THIS SECTION