Editor's Pick
---
ARTICLE
Festo unveils latest projects from Bionic Learning Network
09 May 2016
Taking inspiration from nature to provide fresh impetus for automation technology, Festo unveiled two new research projects from its Bionic Learning Network at this year's Hannover Messe trade fair.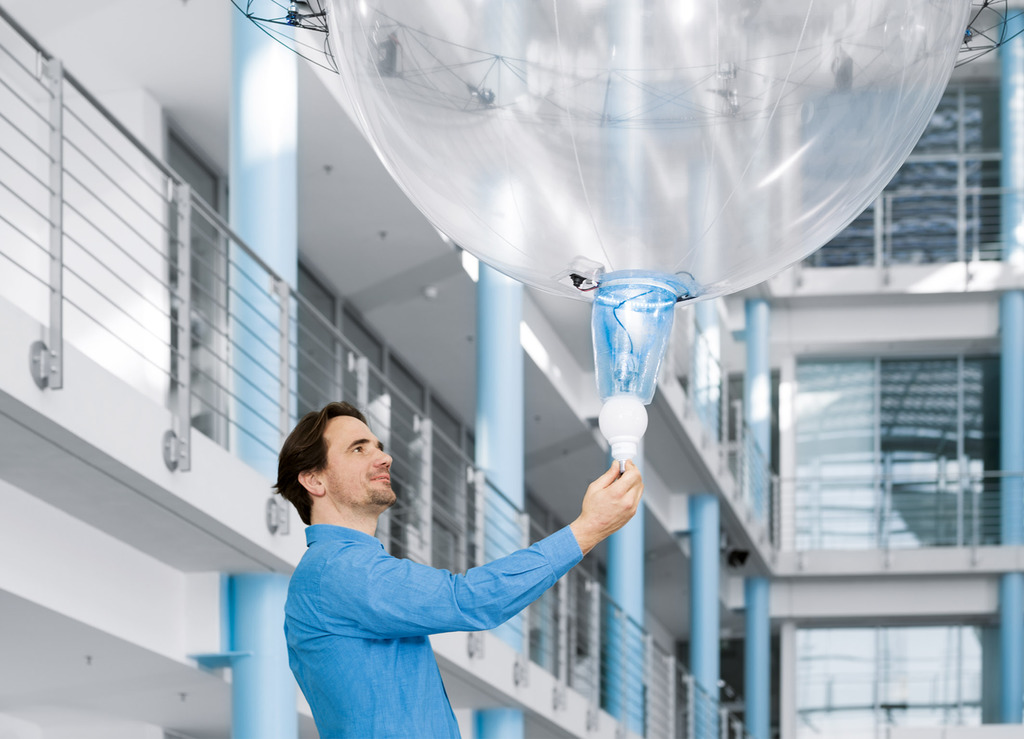 FreeMotionHandling is an autonomously airborne assistance system with infinite degrees of freedom. The 3D Cocooner innovatively combines complex lattice structures with "digital fabrication" using additive manufacturing.
Both flying and gripping have a long tradition in Festo's Bionic Learning Network. With the autonomously airborne object FreeMotionHandling, developers have for the first time united these two topic areas in a single technology carrier. This indoor flying object consists of an ultralight carbon-fibre ring, with eight adaptive propellers, around a rotatable helium ball with an integrated gripping element. Thanks to the intelligent onboard electronics and indoor GPS, the ball can autonomously manoeuvre in any desired direction, pick up objects and put them down in a suitable place. No pilot is needed to control FreeMotionHandling, but the human operator can safely and easily interact with the flight object at all times.
This opens up new perspectives for the workspace of the future: spheres such as these could serve humans as airborne assistance systems – for example in overhead operations, at dizzying heights or in large storage facilities. In realising FreeMotionHandling, engineers made use of two existing developments from the Bionic Learning Network: the gripping mechanism was based on the universally applicable FlexShapeGripper, whose working principle is derived from the chameleon's tongue; and the airborne helium ball itself is a further development of the eMotionSpheres.
Digital fabrication, encompassing additive manufacturing techniques such as 3D printing, is an influential trend in industry and education right now. The second research project, the 3D Cocooner, takes inspiration from the impressive structures built in nature using thread by spiders and caterpillars to create complex lattice structures using a robotic spinneret. The device spins filigree figures and customised lightweight structures from a fibreglass thread. It is precisely controlled by means of a handling system, and the sticky fibreglass threads are laminated with UV-hardening resin and are joined together to form complex structures. Unlike with conventional additive 3D printing processes, however, these structures do not arise in layers on a surface but are created freely in three-dimensional space.
The handling system for the 3D Cocooner is a horizontally mounted EXT-45 type tripod. Its three-arm parallel kinematics can be precisely and rapidly controlled in three-dimensional space; its agility makes the system ideally suited to these tasks. With the 3D Cocooner, the virtual design program directly conveys the manufacturing instructions to the machine level. An object can thus directly pass along the entire digital chain from the initial concept up to the finished product without having to proceed through the usual channels of sales, production and logistics.
OTHER ARTICLES IN THIS SECTION