ARTICLE
Simplifies prototype development
23 November 2017
The new PyuEye interface for IDS cameras allows interactive programming of uEye industrial cameras from IDS using the object-oriented Python programming language.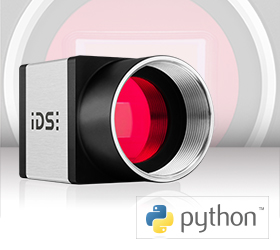 Python is a high-level general-purpose programming language comparable to Perl, Ruby, Scheme, or Java and can be applied to many different classes of problems. The PyuEye interface is ideal for prototyping uEye camera applications for all supported uEye platforms (Windows, Linux, Linux Embedded).
Python combines remarkable power with very clear syntax, making programs easier to read. Since it Is an easy-to-use language, Python allows users to concentrate on the problem rather than focusing on the syntax. It is ideal for prototype development and other ad-hoc programming tasks, without compromising maintainability.
OTHER ARTICLES IN THIS SECTION