ARTICLE
Construction kit for multiple couplings
01 December 2018
With the Multiline E, Eisele offers a modular solution for individually configurable multiple and multi-media couplings. A convenient locking bracket and the M12 power connector for power electronics expand the application area of ​​the system for multi-media clutches and offer optimum possibilities for the supply of industrial robots.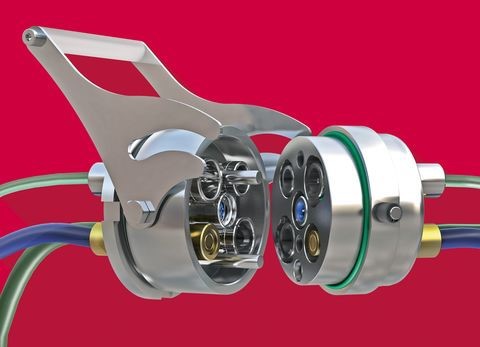 The Multiline E is a completely new modular system for the combination of compressed air, vacuum, gases, cooling water, liquids, electrics and electronics in a coupling body. With the Multiline E, Eisele sets the standard for tool and format part changes on industrial machines and robots. Thanks to the perfectly matched modular design, different hose diameters, connection types and media can be flexibly integrated in a multiple coupling.
A convenient locking bracket makes it possible to couple and uncouple supply lines in just a few seconds. Thanks to this quick-change system, a lower hand force is required so that even a Multiline E multiple clutch equipped with drip-free adaptive inserts can be operated with minimal effort.
The non-drip sealing adaptive inserts enable the coupling and uncoupling of liquids and the combination with the new M12 power connector for the power electronics in a coupling. The M12 power plug is suitable for power supply at voltages up to 630 volts. It is the smallest and most compact connection for cables with cables up to 2.5 mm 2on the market. The adaptive insert with up to five power contacts delivers up to 16 A per pin and is reverse polarity, shock and vibration proof. During the development of the M12 power connector, special attention was paid to the safety aspects and the housing was made of high-quality plastic. In addition, overmolded cables ensure tightness and protect against contamination.

OTHER ARTICLES IN THIS SECTION