Editor's Pick
---
ARTICLE
High power in a compact size
01 December 2014
New from WEG, the CFW11W water-cooled variable speed drive offers up to 40% higher power in a more compact size than standard air-cooled inverters, enabling manufacturers across a range of industries to increase efficiency and optimise processes.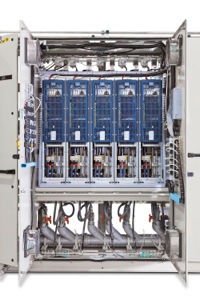 Space on production plants is often limited, with only minimal room available for the installation of automation components. In addition, increasingly powerful drive systems require modern and efficient cooling methods. The modular, water-cooled CFW11W frequency inverter from WEG offers a solution to these challenges.
With power ratings from 450 to 2800kW, CFW11W is suitable for low-voltage applications and is ideal for critical and support drive systems. As the inverter is water-cooled, there is no need for fans, which offers significant size and cost savings compared to air-cooled models.
Available with an IP54 protection rating as a minimum, the CFW11W is robust, with enhanced cooling efficiency enabling it to operate without power loss at temperatures of up to 45°C. Additionally, the modular architecture of the CFW11W allows up to five power modules to be incorporated in a switchgear unit and controlled using a single operator panel, allowing the inverter to be optimally adapted to specific customer power requirements.
"Our water-cooled CFW11W inverters are used wherever space is tight and suitable process water is already available," says Johannes Schwenger, head of Drive Systems Product Management at WEG.
"Compared to conventional models of the same size the CFW11W inverters deliver significantly higher power. For example, a water-cooled inverter with a 2.8 MW power rating has smaller dimensions than an air-cooled model with a 2 MW power rating."
Aside from water cooling, the CFW11W inverters are structurally identical to WEG's standard CFW11M models in the same product family. The inverters support open-loop vector control or field-oriented motor control with rotary transducer feedback for extremely high speed and torque accuracy. This enables precise torque settings even at low motor speeds, virtually up to the stall limit of the motor.
All functions for the effective protection of low-voltage motors are integrated in the devices. This makes the drives suitable for any task which requires precision and energy savings. The CFW11W is extremely easy to operate as it has an integrated user interface (HMI) with a backlit graphical display and software-configurable function keys. With a wide selection of plug-in extension modules as well as plug-and-play functions, it can be adapted to customer needs quickly and easily using the USB port.
OTHER ARTICLES IN THIS SECTION