Editor's Pick
---
ARTICLE
Lifts payloads of up to 1.7t
16 June 2015
FANUC has launched what is reported to be the strongest robot in the world, the M-2000iA/1700L.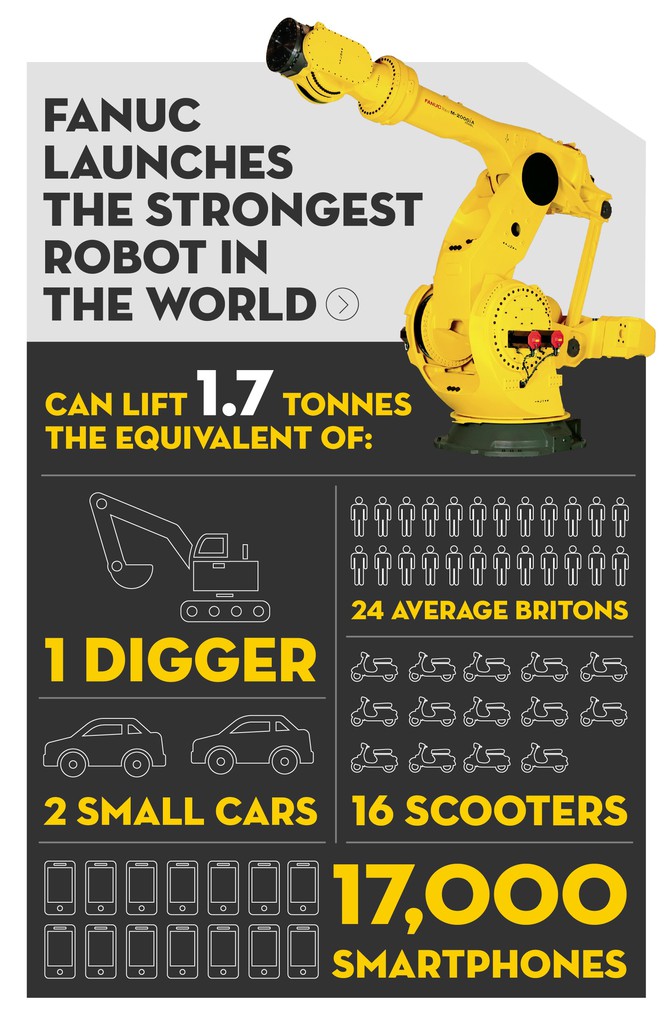 The highly flexible M-2000iA/1700L robot appears to defy gravity, with the ability to lift and position entire car bodies effortlessly. Servicing a variety of manufacturing industries, the robot can perform both simple and complex tasks lifting payloads of up to 1.7t, and a reach of up to 4.7m to increase operating freedom.
The robot's six axes and strong IP7 protected wrist make it an agile weightlifter, moving and placing objects within a large defined working area to an extremely high degree of precision.
The M-2000iA/1700L automates areas of heavy material handling, lowering the risk of damage to production material, reducing running costs, and improving overall cycle times and workflow.
Chris Sumner, vice president of FANUC Europe and managing director, FANUC UK said: "We identified a need to increase the efficiency of the heavy materials handling process for manufacturers, specifically within the automotive industry. As the world's strongest robot the FANUC M-2000iA/1700L brings us into a new age, redefining factory automation capabilities."
OTHER ARTICLES IN THIS SECTION