High speed palletising robot
19 October 2016
Kawasaki is celebrating the 20th anniversary of its UK operation and the arrival of its latest high speed palletising robot. The new CP-700L robot, capable of handling a 700Kgs payload, extends the fastest in class CP-Series range from three to four payload options.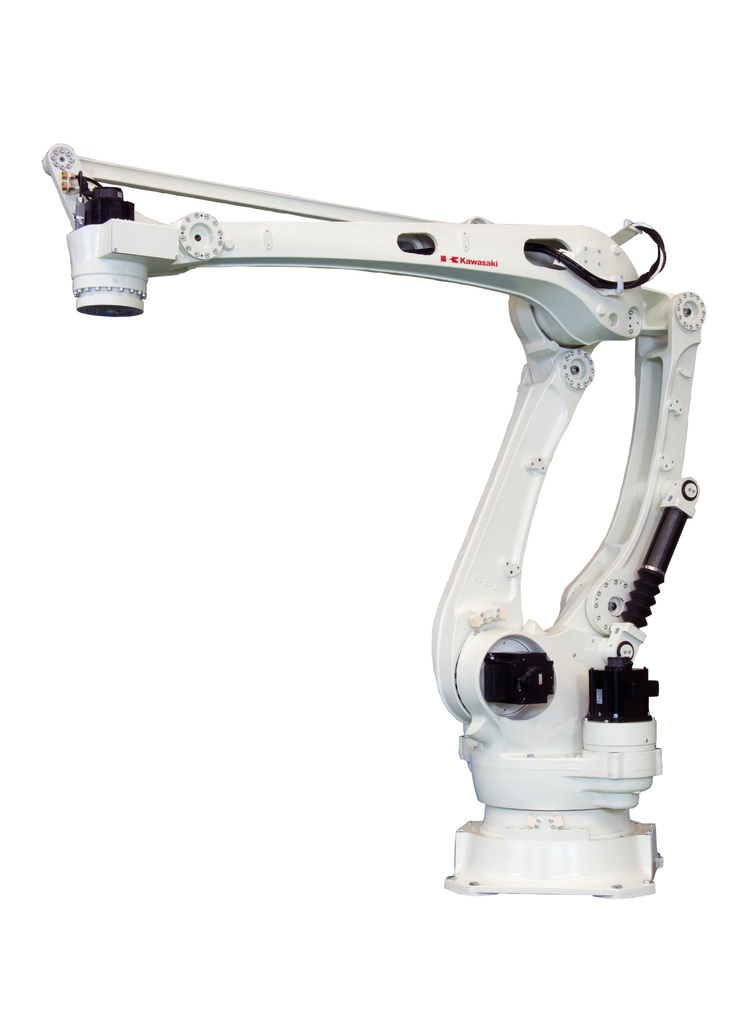 Designed to handle heavy cargo in boxes and bags the CP-700L helps to meet the demand to increase efficiency and to handle heavier payloads.
Using the same primary arm components as other CP-series robots makes the CP700L compact and the industry's lightest weight 700kg robot at 1750kg. The control unit is the same compact, energy-saving controller seen in other CP-series products.
By adopting this controller and its power regeneration function, which reuses energy generated during deceleration in palletising operations, this palletiser achieves reduced energy consumption and CO2 emissions.
Ian Hensman, Kawasaki Robotics' sales and marketing manager points out that the new arm offers the optimal flexibility demanded by customers today: "The CP Range robots rank as best in class when running the standard industry takt test for large robots and the CP-700L has the fastest throughput in the industry at 900 cycles/h. This will allow faster process cycles and help to speed up palletising for our customers in distribution centres.
"Supporting the high performance of the CP Range are the 'Green Credentials' that it offers. We've concentrated on making this robot low energy and easy to maintain; more than 90% of all components across the range are identical allowing customers to reduce their parts handling and storage requirements. An integrated hybrid function stores energy from braking utilising it for acceleration and lowering energy consumption overall."
The CP Range is supplied with the compact Kawasaki E03 controller which is ideal for locating under a conveyor in normally redundant space. Straight-forward programming is also offered when the optional K-SPARC palletising software is used. This enable programmes to be generated offline by selecting the work-piece, pallet and stowage pattern; layout planning and operating simulations can also be performed enabling optimisation of the palletising operation. Stand H40
OTHER ARTICLES IN THIS SECTION