ARTICLE
Interface relays for PLC & process control
17 May 2019
Available from OEM Automatic, widely used across industry Comat Releco CRINT interface relays are said to be perfect perfect for PLC and process control.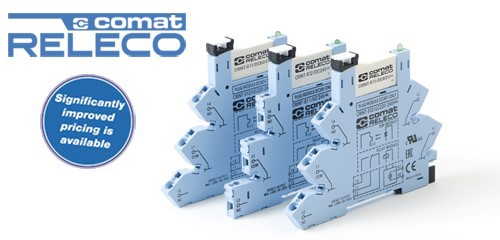 Comat Releco offers four difference versions in the CRINT family:
1. High power AgSnO2 electromechanical contacts for switching up to 6A resistive load at 250Vac
2. Gold flashed AgSnO2 + 3μAu electromechanical contacts for low power applications. No external freewheeling circuit required
3. Solid state output for fast and high frequency up to 2A at 24Vdc, normally open switching
4. Triac solid state output for switching up to 1A at 240Vac, normally open, zero crossing switching for resistive or similar loads
All modules can have screw or cage clamp terminals, control voltage ranges from 12 to 240Vac/dc and a blank terminal marker is included with all relays. Additional accessories such as coloured jumper bars and separators are also available.
Relay modules up to 6A 250V, different contact materials
Solid State modules for most DC and AC loads, up to 2A
Universal supply coil – no protection circuit required
LED status indication
Screw or cage clamp terminals
Optional jumper link
Small 6.2mm mounting profile
OTHER ARTICLES IN THIS SECTION